ASVP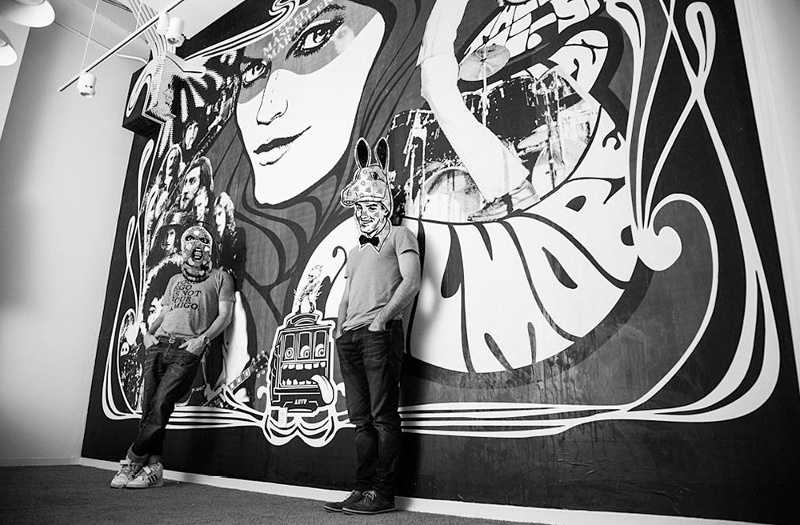 ASVP is an artistic duo based in Bushwick, Brooklyn. They are known for creating work that is a mix of graphic (hand painted) illustrations often containing elements from advertising, pop and comic book culture.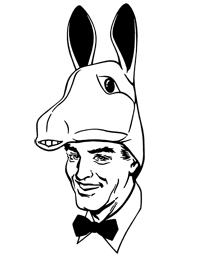 In 2008, ASVP Studio was created as an artistic partnership between Simon Grendene (Zurich, Switzerland, 1976) and Victor Anselmi (New York, NY, USA, 1973). Having roots in Commercial Art & Advertising Design, ASVP knew how to develop an iconic, graphic language from the outset of their work together. Due to this, ASVP quickly became an established and recognizable name in the Street Art scene in New York and around the world.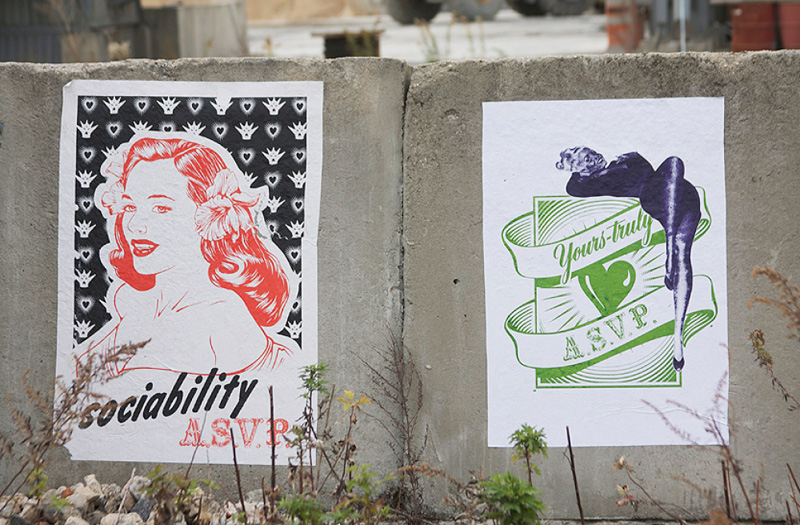 ASVP Outdoor Paste-Ups (Brooklyn, New York, 2009)
The purpose of ASVP always included sharing their art with the general public. From the beginning, they produced handmade paste-ups, posting thousands of them in public spaces across the world. An icon in the Street Art world was born.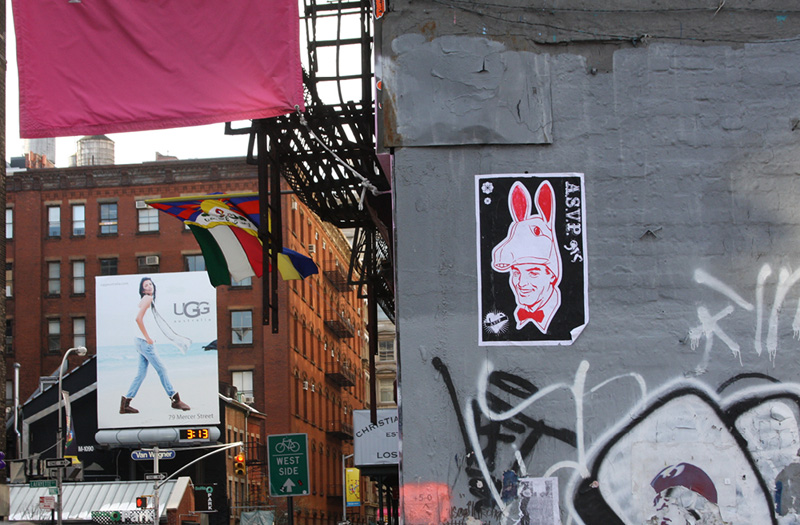 ASVP Paste-Up, (Manhattan, New York, 2011)
The earlier work of ASVP is characterized by power and simplicity. The paste-ups consist of a sheet of paper with an image and the recognizable ASVP logo. The work is playful and whimsical. The simplicity of the works create a quick and concise point of entry for the viewer. This approach is also reflected in their later oeuvre.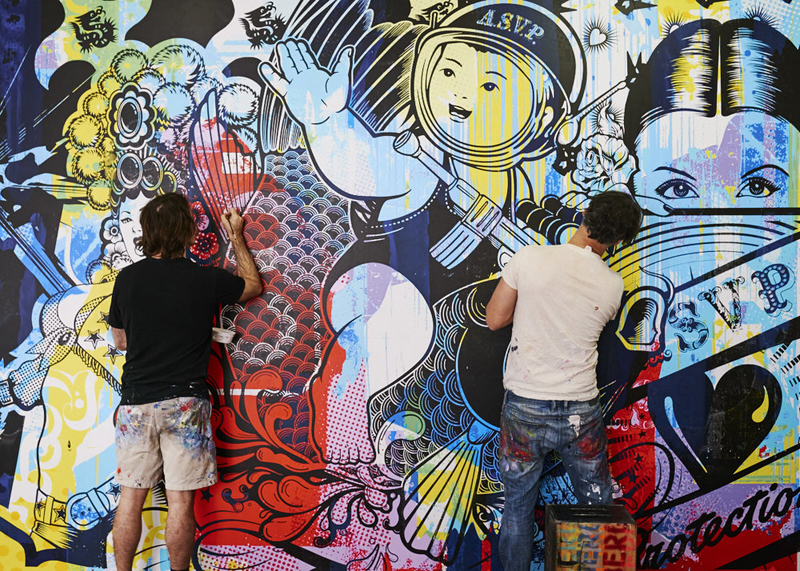 ASVP working on large canvas. (Private Commission, 2017) Displayed in February, of 2017 at Okay Space Gallery, Brooklyn, New York.
ASVP has continually evolved their work over the years. The smaller street works evolved into very large paintings and murals. The simplicity and powerful imagery in the later work is enriched with a colorful palette in both the back-and foregrounds of their pieces. Their pieces often include a singular foreground image, supplemented by many playful background characters and elements with nods to pop and comic book culture.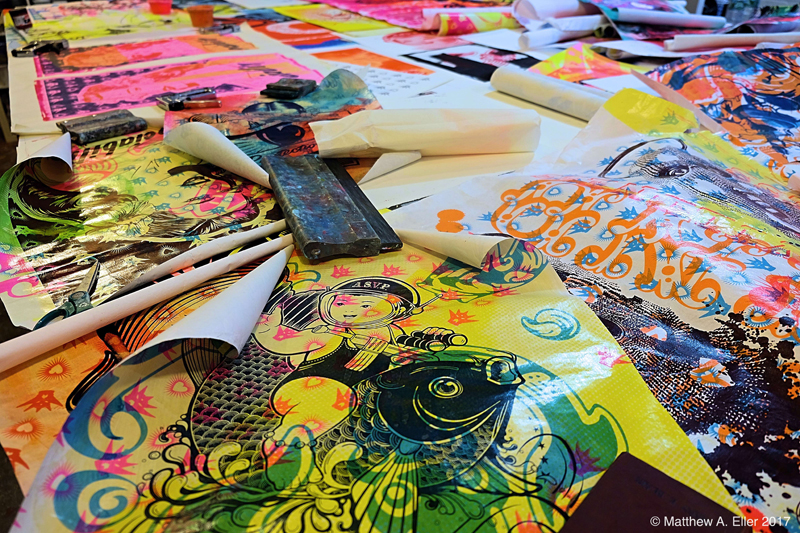 ASVP Studio works on paper. Photo by Matthew A. Eller.
Central to their approach is a combination of painting and screen printing. With great attention to detail they build up their work in multiple layers of painted abstraction. Expressive strokes embrace a painterly, free flowing effect, contrasted with layers of razor sharp elements which are screen printed on top.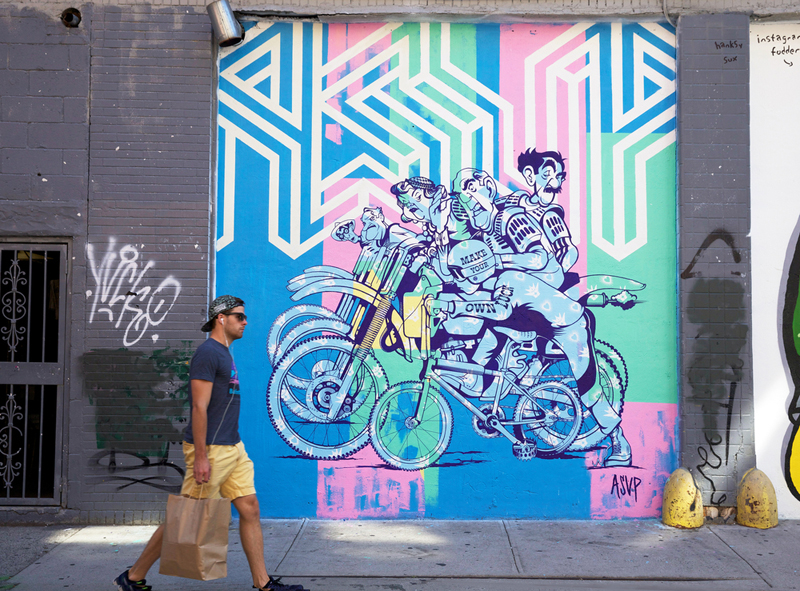 ASVP "Make Your Own Luck," August 2015. For the LoMan Art Festival. (New York, New York)
This combination also comes the other way around. Immense silk-screened paste-ups are hand finished with paint. Their murals contain this same character. By hand they paint a sharp image over the expressive background. In their screen-prints on paper we see a similar effect.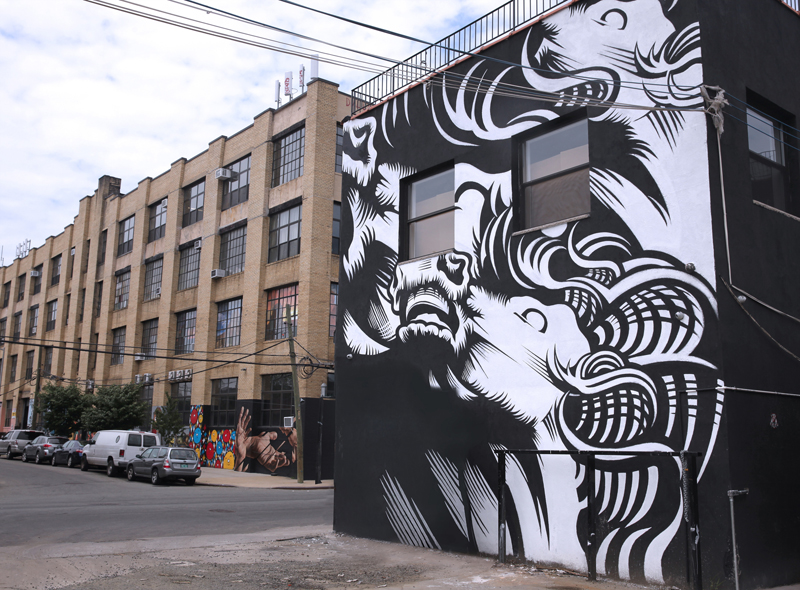 ASVP 'Triple Crown', 2015. Wall Commission, Sugarlift Gallery, 2015. (Brooklyn, New York).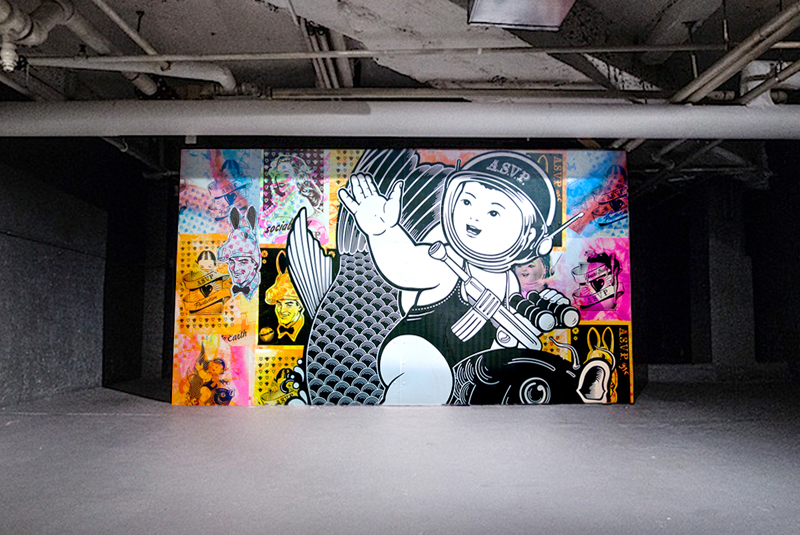 ASVP /Varied Works/, Installation, Hendershot Gallery, 2012. (New York, New York)
The work of ASVP is clear, they are true to their own style and they have managed to settle into the contemporary art world. This is apparent in the many exhibitions and shows in which they participate. Their work is shown internationally in galleries and auction houses *. In addition to the streets of New York, their paste-ups and wall paintings can be found worldwide in countries including US, Europe, Asia and Africa.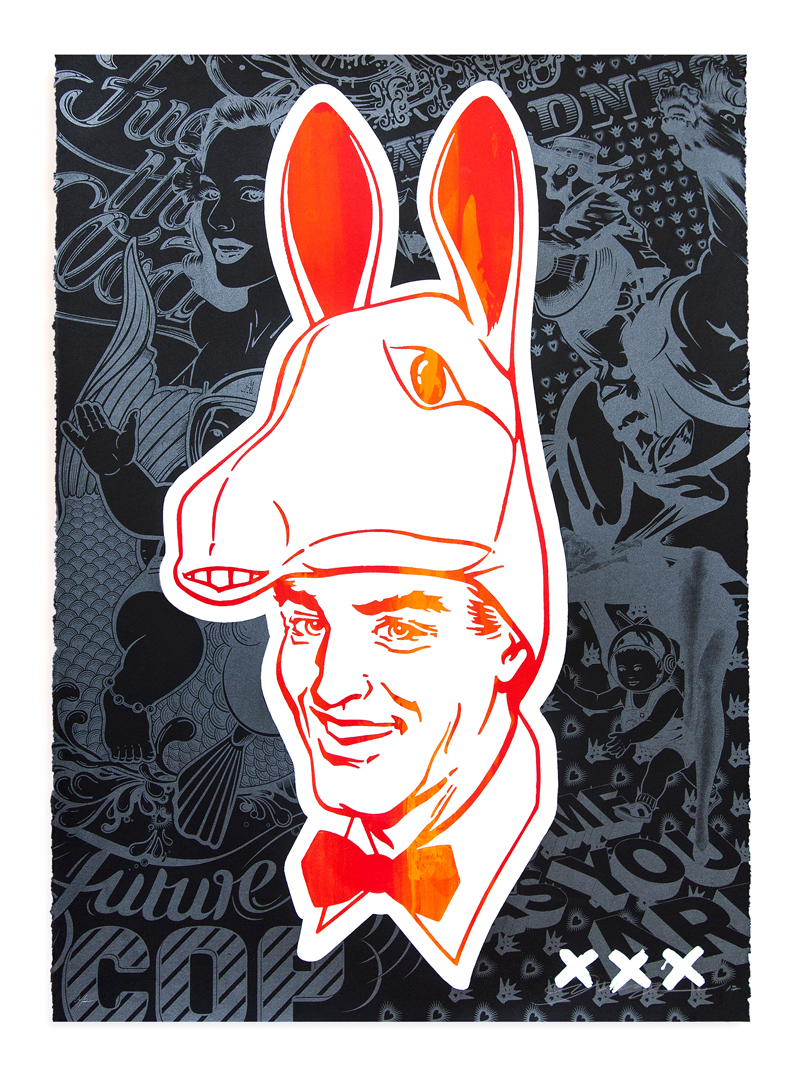 ASVP "Donkey Head", 2018. Silkscreen.
In cooperation with Andenken Gallery ** streetart.com
offers a limited edition of 10 ASVP-silk prints. "Donkey Head" is a very unique work which embodies all of the elements of ASVP's work as described above.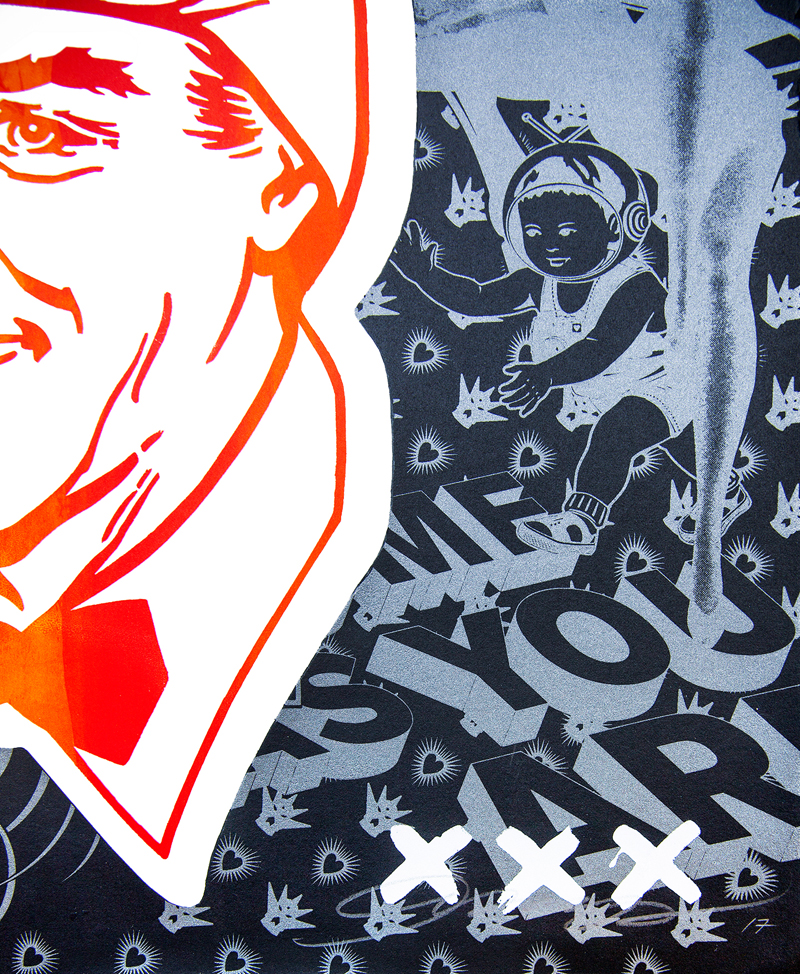 This silk print contains a collage of ASVP's legacy images which were pasted on city streets around the world between 2009-2013. In this artwork we discover the different typographic styles and elements and we see several iconic ASVP-figures with roots from pop and comic culture. The background is printed with a matte black ink and a custom silver paint that includes metallic aluminum flakes.

In the foreground we see one of the most iconic figures of ASVP. The "Donkey Head" which can be traced to some of ASVP's earliest works. Among enthusiasts this singular image has become the symbol that represents the duo and their art.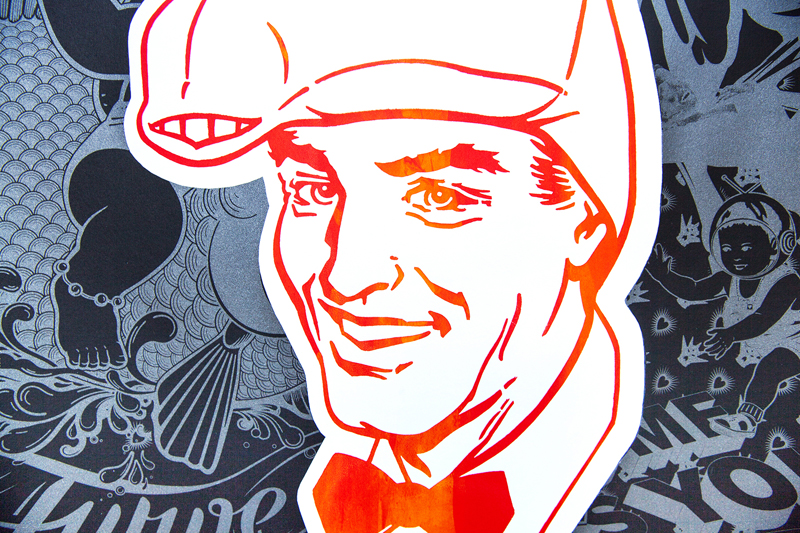 The work also contains the ASVP method of screen printing combined with painting. The orange and red outline of Donkey Head shows the lovely painterly character. The orange and red colors marrying beautifully together. Each work is unique and different in terms of gradient. The works are signed, numbered and dated.

* Art Basel (Miami and Switzerland), Digard Paris, Sotheby's, Doyle New York's Annual Contemporary Sales.
** Andenken was founded in 1997. For the past 20 years, the Amsterdam based Andenken has focused on progressive contemporary art. Tuned primarily towards both urban art and design minded cross over artists, the gallery and curatorial agency has played match maker for over 200 exhibitions, projects and events in dozens of cities in Europe and the U.S. Visit them on the web at Andenken.com.

Info: Matthew Eller, streetartnews, 6 februari 2017
Written by; Johra Kornegoor, 07/02/2018. 09:50