Danny Rumbl (Ready2Rumbl)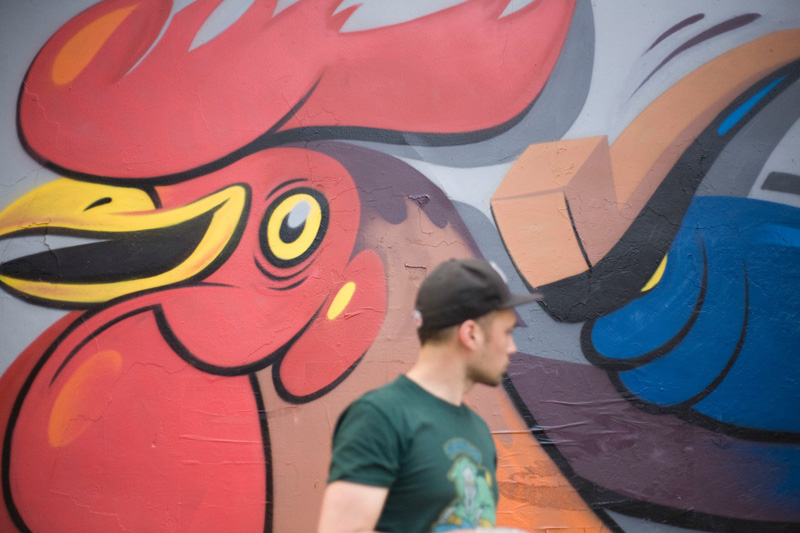 Danny Rumbl, from Ready2Rumbl, is an artist and illustrator operating from Rotterdam. His work is characterized by humor, color and a clear visual language. Rumbl makes murals, drawings, paintings and sculptures. The artist creates an interesting interaction of working in 2D and 3D. His inpiration comes mostly from the popular culture.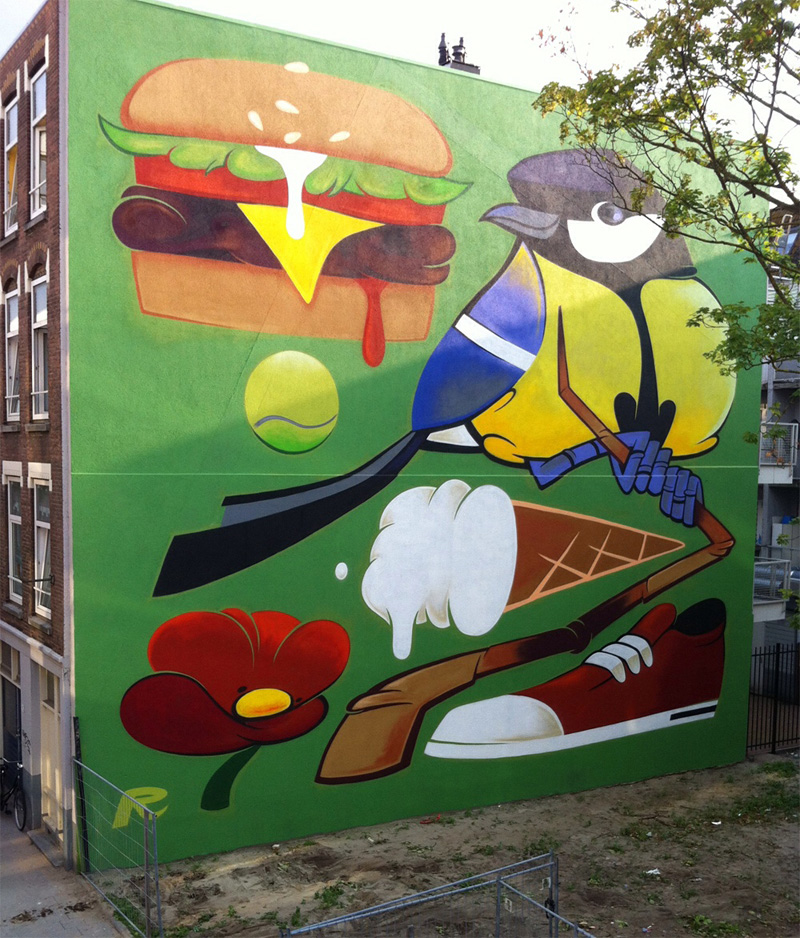 Danny Rumbl 'Koolmees'. Rotterdam, 2015
In his work we find his sources of inspiration. "I let myself be inspired by well-known (fast)food characters. They are often so well put together that they are almost timeless and even in this time very popular. "
With clean lines, sharp contours, a bright contrast of colors and recognizable elements Rumbl knows how to create a catchy image.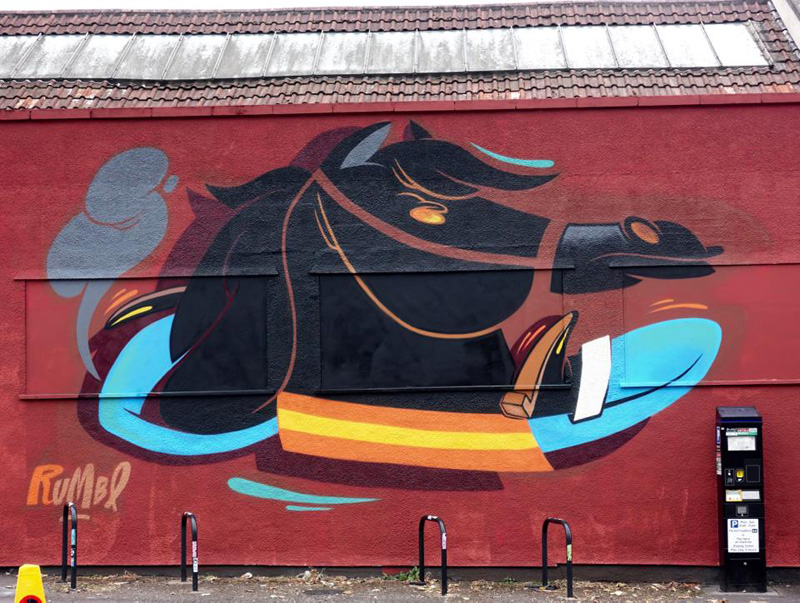 Danny Rumbl for Upfest. Bristol, 2016.
Each time, Rumbl places his figures in a new context. With their strong character they tell their own story. By putting the (animal) figures together with other objects, as can be seen at 'Koolmees' and ' Der Cellist ", the narrative element in the work strengthens.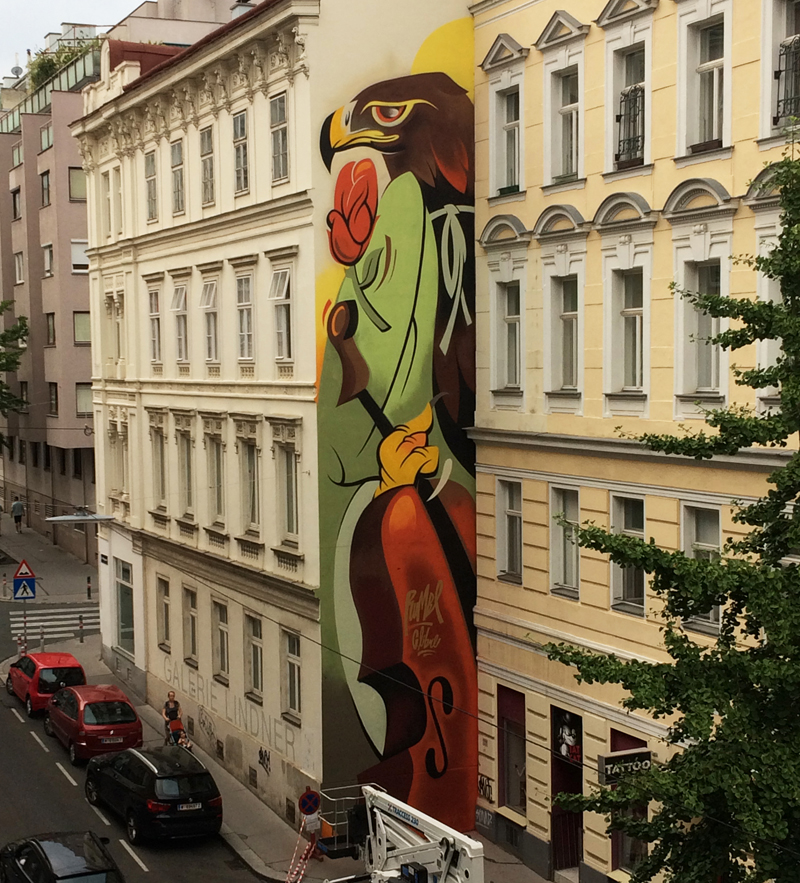 Danny Rumbl 'Der Cellist'. Vienna, 2017.
The work of Rumbl has an open and playful character. This makes the work accessible to the general public. His characters are recognizable but also mysterious. They can induce a nostalgic feeling without being directly identifiable in our memory.
The artist refers to a visual language of the commercial industry and popular culture. This Visual language and the corresponding figures are in our memories, but sometimes need some clarification. By giving the work an appropriate title (such as Krush Kitty of Slush Puppie) the spectator recognises the direct link.
Krush Kitty mural and sculpture for streetart.com
The tension between recognition and identification is an interesting element in his work. It is partly for this reason that the artist gets a lot of recognition for his work. His murals can be found both at home and abroad. His work is also regularly on display at exhibitions, outdoor events, group shows and streetart festivals.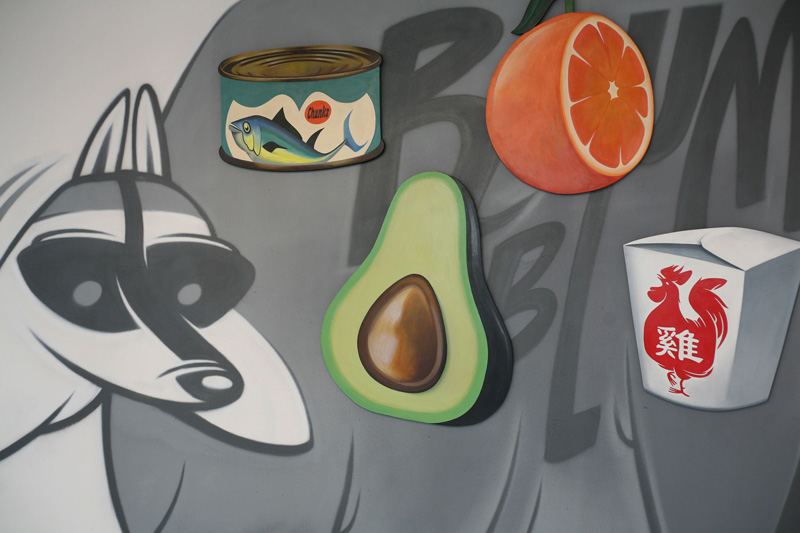 Danny Rumbl mural painting for 'The Foodshow by Ready2Rumbl', galerie Lacroix. Paris, 2017.
His work was shown 12 May to 26 June this year (2017) in the solo show ' The Food show by Ready2Rumbl ' in Galerie Lacroix in Paris. Also this year, his work as an illustrator could be found on the cover of the streetart magazine SAM (Edition 13).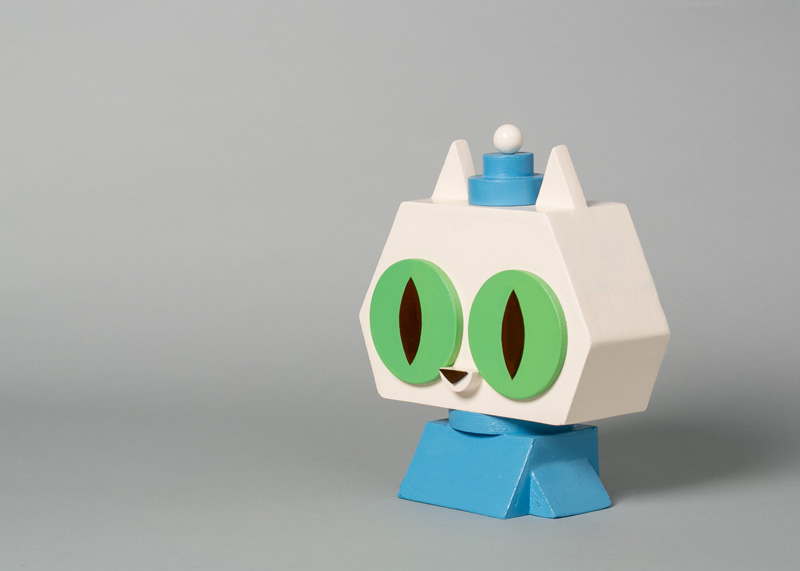 Danny Rumbl 'Krush Kitty' for streetart.com, 2017.
For streetart.com Rumbl created ' Krush Kitty '. This wooden sculpture is entirely hand-sawn, sanded and painted.
Krush Kitty is inspired by the famous mascot of the drink Slush Puppie. As a child Rumbl loved this figure. Krush Kitty originated as organic wall painting and received a stylized sculptural form.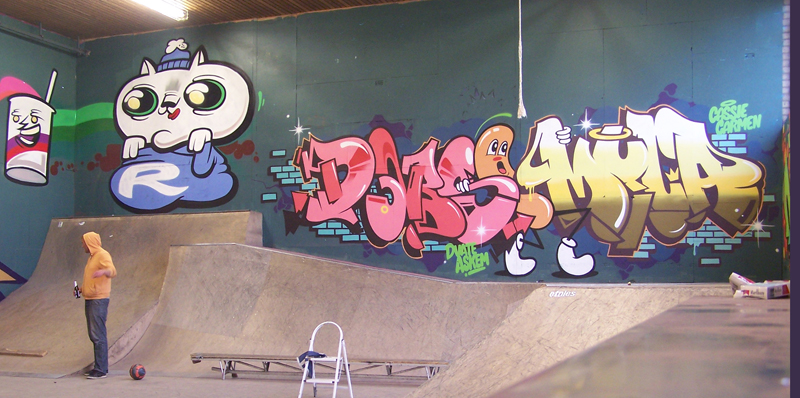 Mural Rumbl -Krush Kitty-, Dabs en Myla
With his sculptures, Rumbl searches the border between figurative and abstract. He loves the challenge and limitations of working in 3D. Krush Kitty is in our view a very strong, attractive and cheerful sculpture that includes all facets of the artist. Bright colors, clean lines and inpiration from the popular culture. A strong streetpiece that became an even stronger sculpture.

The sculptures are very nicely finished and assembled with precision.
Limited edition of 10 pieces. All signed and numbered.
Dimensions: L approx 22 x w 8 x H 25 cm.
Comes with a cool Krush Kitty sticker
Created 14-11-2017 03:02 PM CET
Written by Johra Kornegoor