Laser 3.14
Do you want to buy an artpiece from Laser 3.14? Please take a look in our shop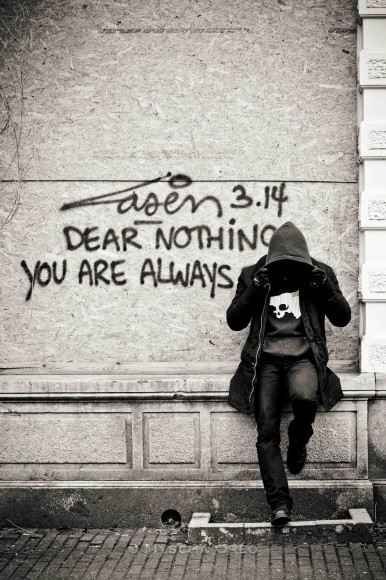 Photo by Myscha Oréo
Laser 3.14 creates poetry on the streets for the last 15 years. Laser 3.14 is seen as a contemporary hero of the Dutch platform. In the 1980s Laser 3.14 started on the streets of Amsterdam with tagging his name. After years of spraying he wanted to renew his style which led to a new born legend with poetic characteristics.
By making short and powerful poetic lyrics, combined with his tag name, Laser 3.14 created a style which goes beyond the usual graffiti language. With involving music, politics, love, media, culture, history, art and religion in his works the artist wants to convey a statement.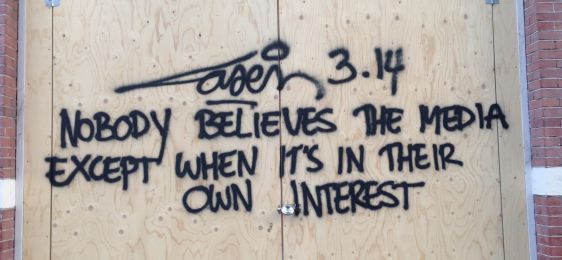 An important aspect in Laser 3.14 his work is the border between the illegal and legal characteristics in street art. Many of Laser 3.14's work can be found on wooden plates. These plates are used in the construction pits of Amsterdam. In which the city centre of Amsterdam finds itself for the last view years . The artist plays with these temporary unpoetic dumbs, creating an exciting game and contrast with his work. It also gives him a good way to distribute his art, because parts of the construction area are often reused in a new workstation.
Laser 3.14 is creating poetry now for almost 15 years on the street, which leads to the fact that his name is inseparable from any conversation about Amsterdam urban art. As one of the most productive street artists, Laser 3.14 shares his distinctive work with his audience both outside on the streets, in the galleries or in the museums. His works were shown in the leading street art exhibition 'Dutch Masters: Street Art & Urban Painting ' at the GEM in the Hague (2006).
Laser 3.14 is worldwide known and celebrated globally for his bold statements about politics, popular culture and everyday life. 'I see no difference between the city and the work that I add to its walls. The only distinction is that my work is consciously accessible to the public while the poetry of the city is not visible to everyone.'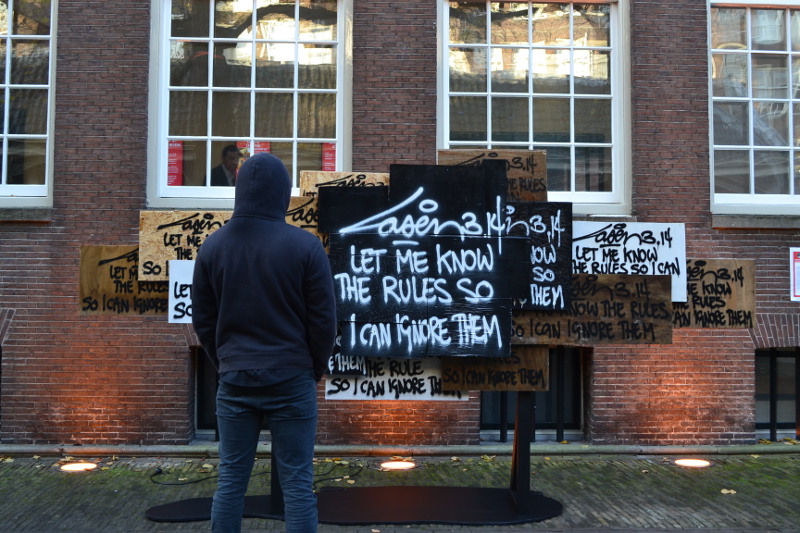 ' Let Me Know The Rules So I Can Ignore Them ' is the title and statement of the impressive installation of Laser 3.14 during Museumnight. This new piece combines various elements from his growing oeuvre; works on wood, patchwork installations and steel shield structures. This takes his sculptural work to a new level.
Emblazoned with the words 'Let Me Know The Rules So I Can Ignore Them', Laser 3.14 speaks both to -and as Amsterdam and its many inhabitants, reflecting on the empowering nature of this pioneering city. It is therefore not surprisingly that ' Let me know the rules ... ' gained much recognition by the many visitors of the Museumnight.