Mister Thoms
Do you want to buy an artpiece from Mister Thoms? Please take a look in our shop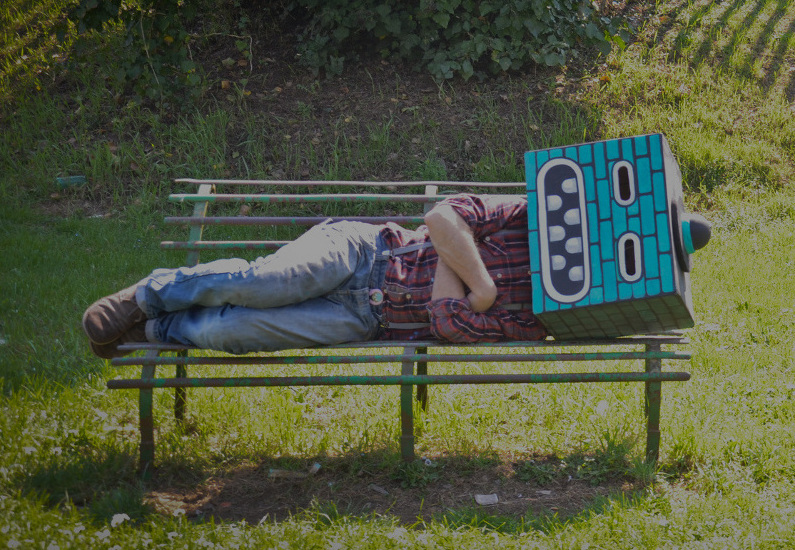 The 35 year old Italian Diego della Posta aka Mister Thoms from Rome is almost 20 years interested in street art and illustration. This creative master is painter, graphic artist, decorator, cartoon artist, sculptor, designer, storyboarder, illustrator and street artist with a great talent. Inspiration for new works he obtains through conversations with people and he reads a lot. His art is mainly influenced by surrealism, but also by cartoons, comics and movies.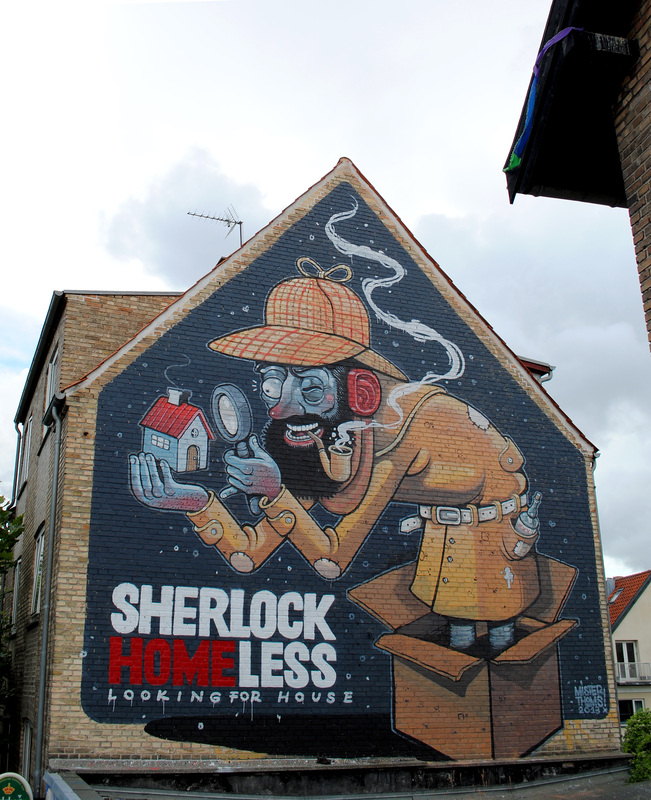 Next to that, the area and the wall itself has a great influence on the theme of Mister Thoms work. Instead of changing the area with his art, he transformes his characters until the piece merges with its environment. A perfect example of Mr. Thoms method is his work 'Hair Cut' and 'Nerd Power'; an arid bush become the characters hair which badly needs a trip to the hairdresser and what used to be windows of a house become the eyes of square spectacled nerd. Add lots of color, geometric shapes, a good dose of humor and a nice touch of insanity and you will get the classic Mister Thoms.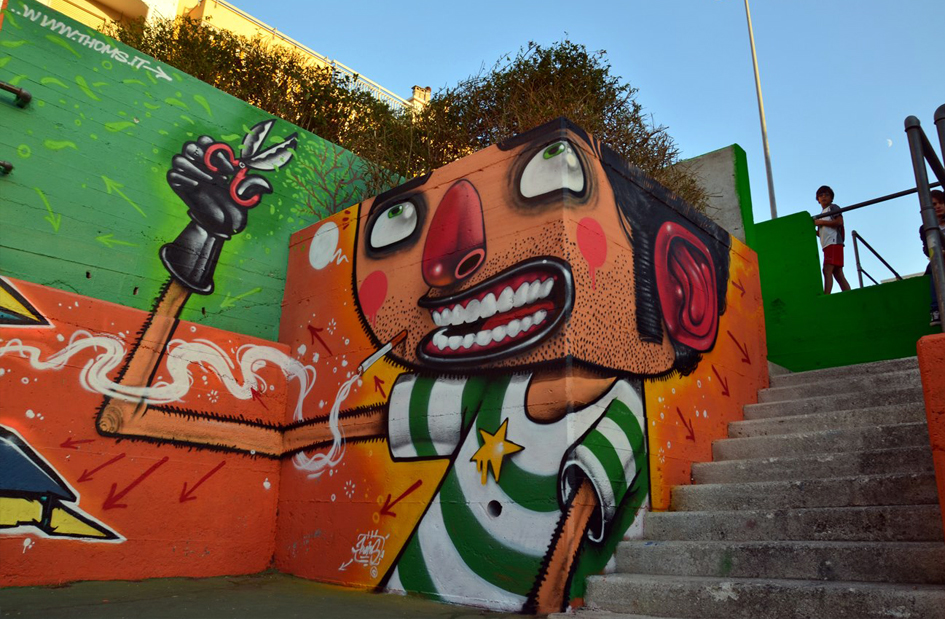 By creating 3D charaters they become alive and seem moveable, while being immortalized on a wall. He believes that he doesn't have one particular style, but possesses an assortment of different styles. These styles should contribute to Mister Thoms idea for a piece and adapt to its creation, not vice versa. Over the years, Mister Thoms developes his skills like any other artistic discipline through dedication and perseverance. He still prefers to paint his artwork on old worn out surfaces.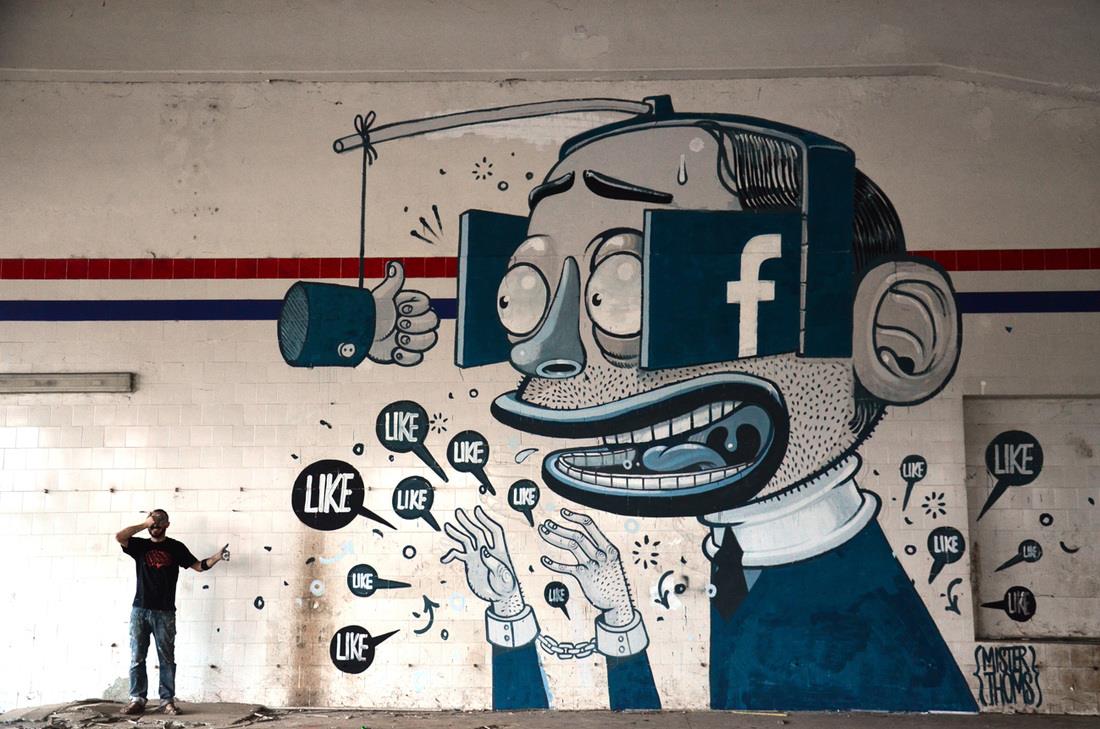 Mister Thoms contribute twice in an exhibition and he once participated in an urban contest. Last spring his exhibition 'Talking Walls' took place at the Gallaria Varsi in Rome with Marta Gargiulo as curator. The main theme of this solo exhibition was daily life, reflection and interaction mixed with Mister Thoms irony. The colorful three-dimensional objects where playful placed in the venue. With his works he tries to increase the critical awareness of visitors on the socio-anthropological themes. The title of the expo 'Talking Walls' makes the message of Mister Thoms clear. Mister Thoms uses the walls to speak up.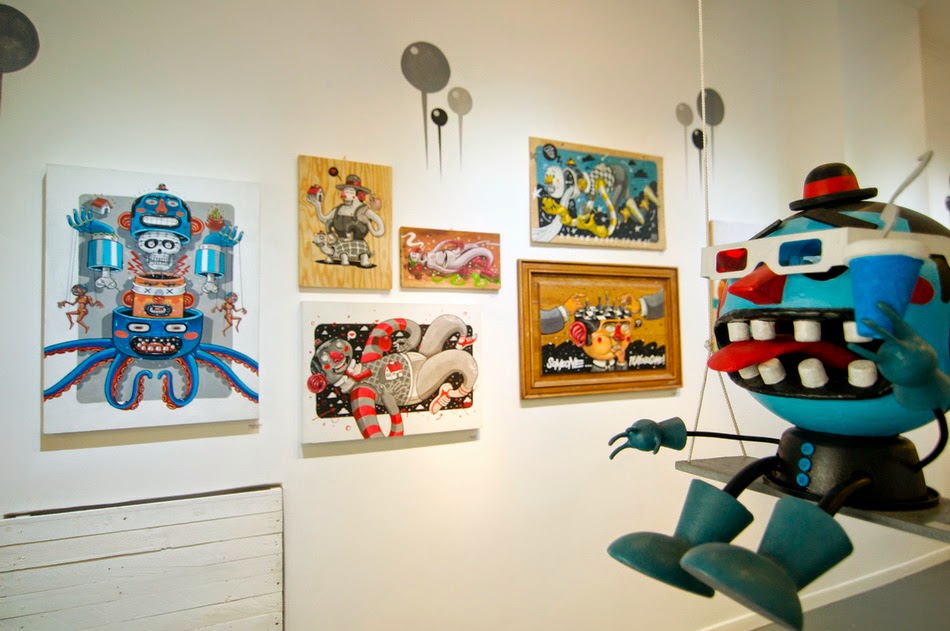 He turns some of his amazing murals into a minature mural on paper. In this way you can't only enjoy his work on the streets, but also on the wall above your own couch. He decided to create a minature print from his original famous work 'Like a Vision' from 2014 with Facebook as theme. This piece painted on a wall in the city of art and tradition, Ferentino, just about 80 kilometers south-west of Italy's capital. This humorous mural criticizes the mindless behavior of people clicking on the "like" button regardless of whether they actually like it or not. Also the obsession with collecting "likes" and the feedback people obtain by "likes", are clearly visualized. All this created by the tunnel vision of Facebook is translated through the symbolic Facebook blinders. Again, painted with his funny cartoon style where Mister Thoms is famous for.
Mister Thoms likes it!