Nils Westergard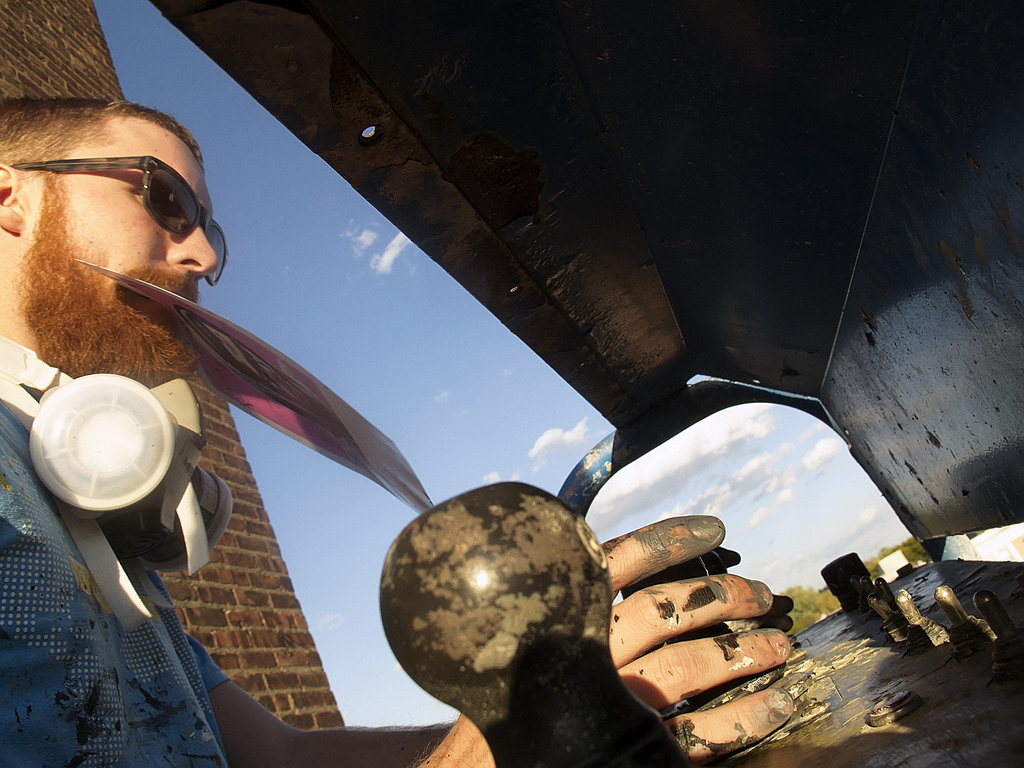 Nils Westergard is a talented young Belgian-American street artist and filmmaker based in Richmond, Virginia. He started doing graffiti when he was 14, nowadays he creates stencils and freehand works in which he focuses on the nature of the authority, influences of his friendships, and unspoken communications.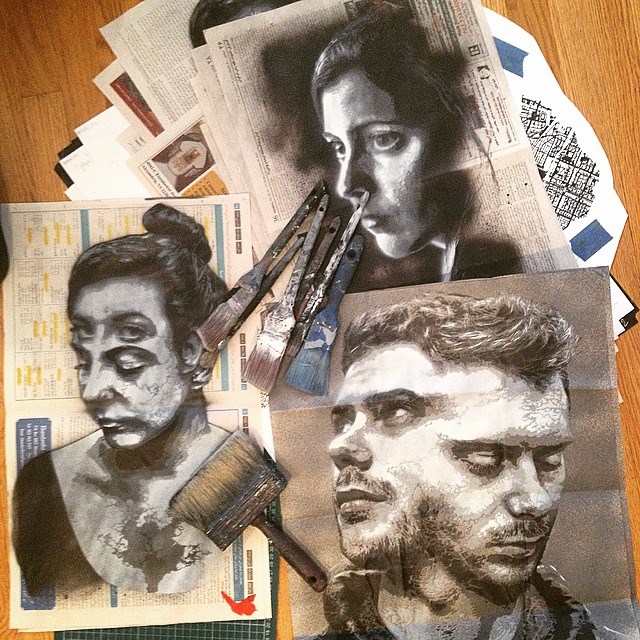 Nils Westergard studio sketches to create murals
Lately, one of the features that we see more and more in his works are his surrealist portraits. He became inspired by the work that his grandfather, who was an optical-illusion artist, made in the 1960s. By using this as inspiration, Nils succeeds (in a creative and very unique way) in giving expression to his view of the human being.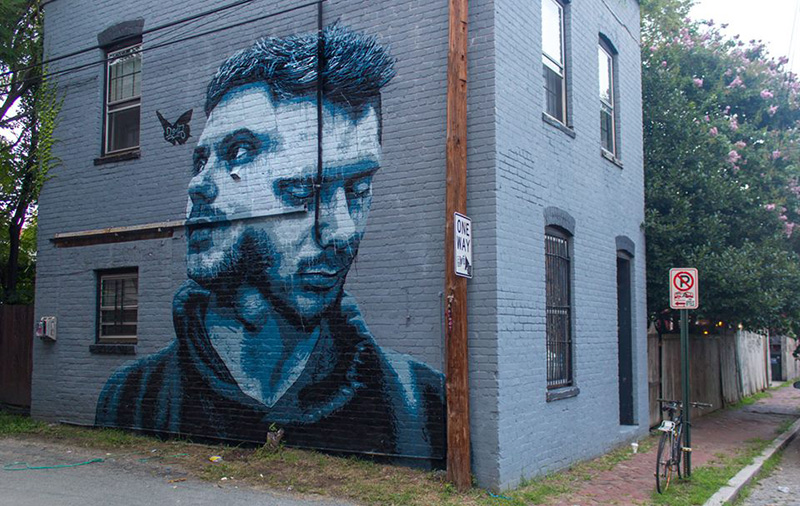 Nils Westergard 'Dan (Janus)'. Richmond (Virginia, US), 2015. For the Richmond Mural Project with Art Whino
Friends are important in the works of Nils. In an interview with I Support Streetart the artist describes; "I've realized how important my friends are to my life, I love each and every one of them and wouldn't be able to live without them. So I've been painting friends that are always around, friends I meet for short periods, and everything in between."
He translates these people in large murals. Faces in different positions, mostly black and white, appear in the streets worldwide. Cities in The Netherlands, France, England, Czech Republic, Australia and the US gain one of these beautiful portraits.
By incorporating different points of a face in one image he creates a spectacle that's attracting its viewers. By moving away from the everyday image, you as a viewer are challenged to form the right image.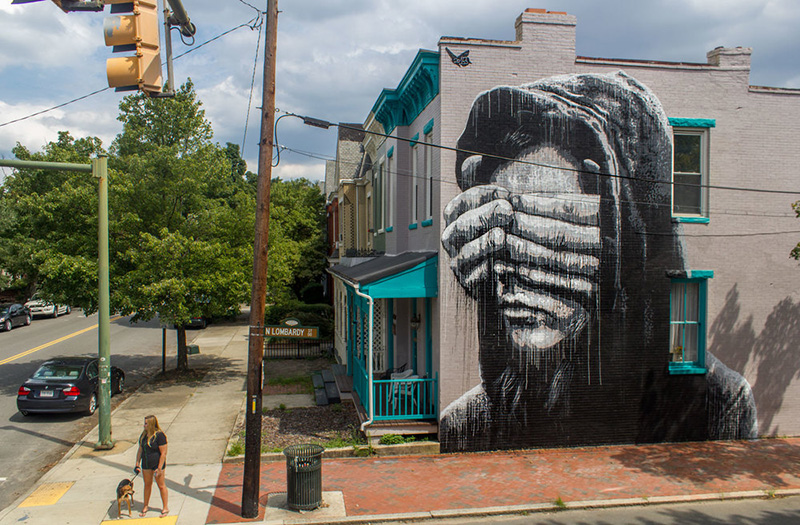 Nils Westergard 'Within'. Richmond (Virginia, US), 2015. For the Richmond Mural Project
His murals are often large in size, have a painterly character and are usually black and white. By creating them this way, Nils manages to create an intimate and pleasant atmosphere in the artwork. The mural attracts attention, but at the same time it flawlessly fits within its surroundings.
Integrating the artwork in its surrounding is something Nils is inspired by for many years. Besides being an artist, Nils is also a really good filmmaker. 'Wallflower' was Nils his graduation project in which his visual image coincides with the works he also makes on the streets.
Moving from his inspiration to his creations, and from his work in the streets back to his works on the flatten image, Nils is an intelligent artist who is capable in creating something unique. A good example is his work ´Tilia Cordata´ which he created for streetart.com.
Some years ago during his bike ride from Amsterdam to Utrecht Nils found a large leaf of the linden tree (tilia cordata). He kept it and always knew he will work on it. During summer when Nils came back to Amsterdam, it suddenly made sense. He had spent so much time getting to know Amsterdam just from being in it, he wanted to share this experience as an explorer. He created a city map of Amsterdam in this leaf. Pastes of this leaf were made and placed around physical spots within the map. The exact location was marked with a red 'dot' in the work. With great detail and precision in the idea and the execution, Nils was able to deliver an impressive work of art in the streets of Amsterdam.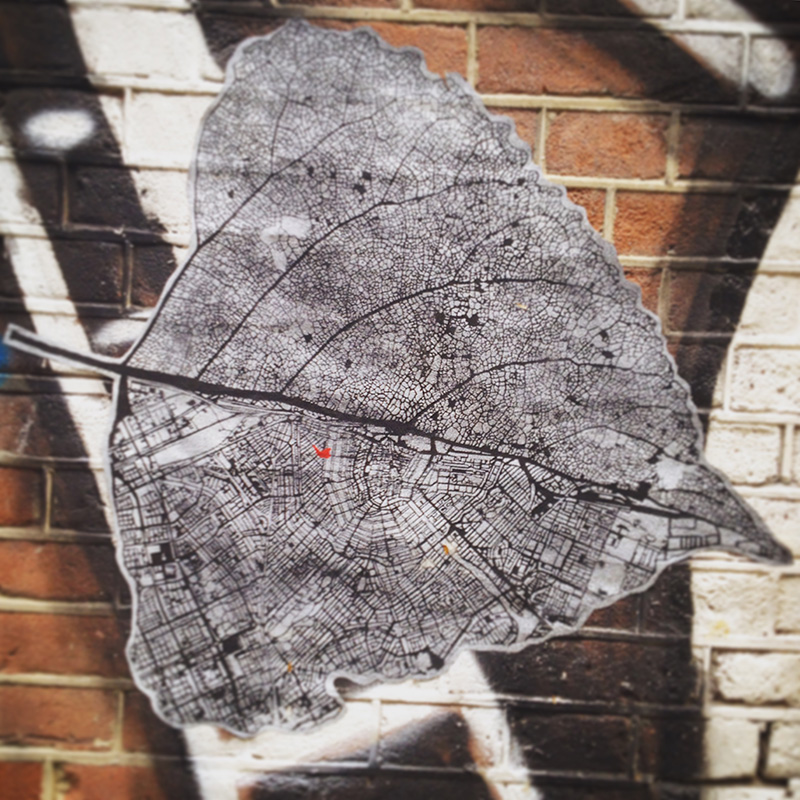 Nils Westergard paste up of Linden tree leaf in Amsterdam (2015)
Nils gains a lot of positive feedback to his work. RVA Magazine did an interview with him (2016), he was part of great events like Richmond Mural Project, Livin Streets Festival, Sand, Sea & Spray Blackpool's Urban Art Festival and Step In the Arena. His works were shown at the Art Whino Gallery and GraffitiStreet invided him for a group show. For this occasion he created this catchy wall in London.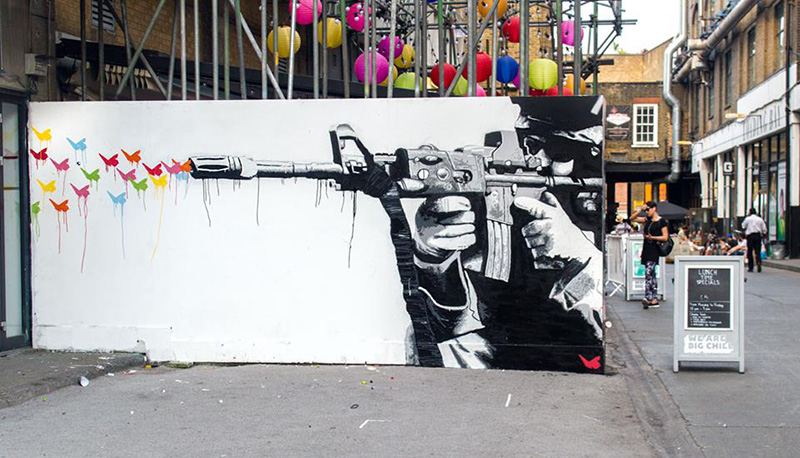 Nils Westergard. London, Truman Brewery, 2015. For GraffitiStreet
Nils also likes to create stuff for charity. So he made his first "Kaiya" on canvas as a fundraiser for the O+ Festival. After that he decided to make this mural in San Francisco.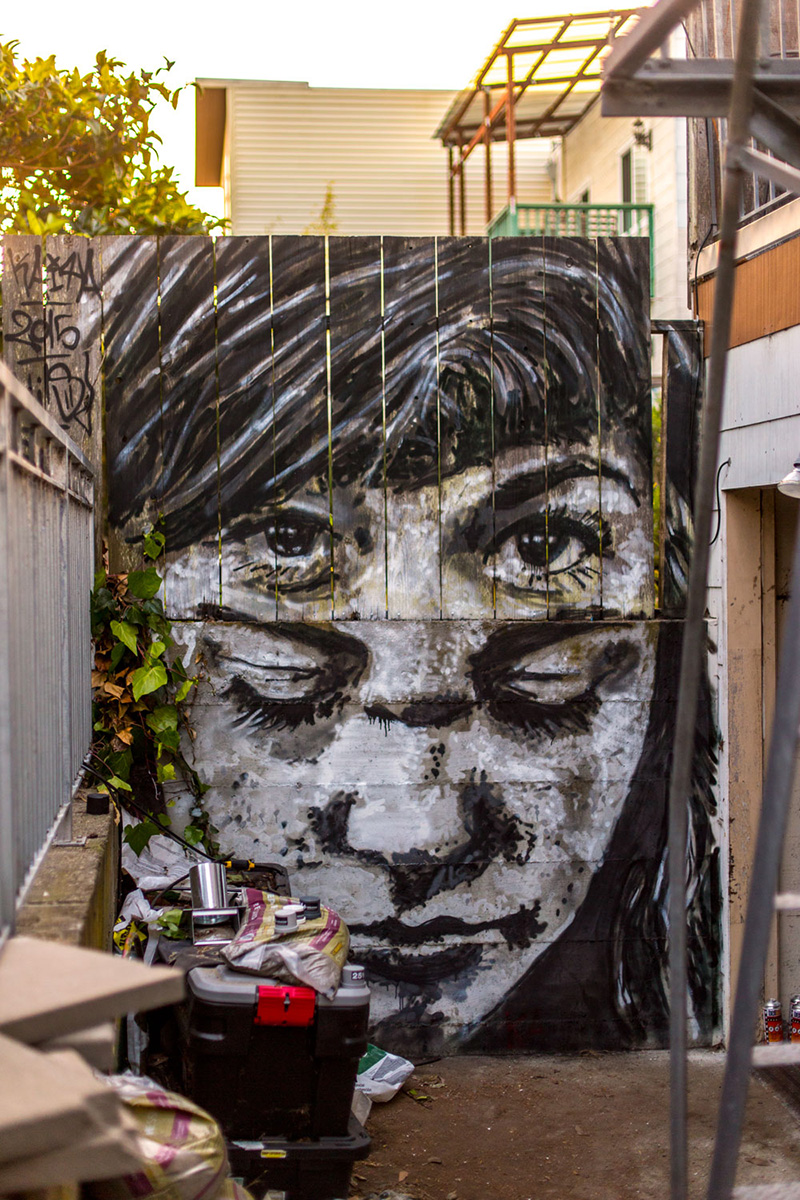 Nils Westergard 'Kaiya'. San Francisco, 2015
In 2015 we hold an exclusive sale of ten original hand sprayed pieces of 'Tilia Cordata' on black paper. This large leaf of the Tilia Cordata tree includes the map of the city centre of Amsterdam.
By his love of Amsterdam, Nils decided to create a larger series of this Tilia now as screen prints. This series 'Tilia Amsterdam' includes 50 gold and 100 black editions. All hand signed and numbered.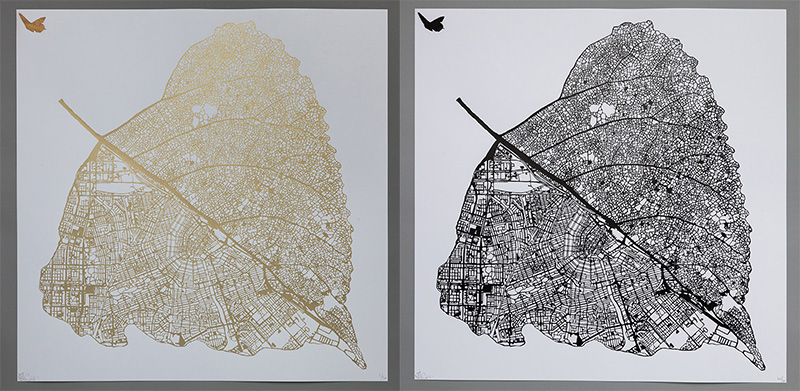 Nils Westergard 'Tilia Amsterdam'. Gold and black edition.
Created April 6 2017 12:53 PM CET
Written by Johra Kornegoor