Otto Schade
Otto Alexis Schade is a Chilean - German artist born in Chile in 1971. In 2004, he left his homeland to pursue his passion for art and ultimately show his work throughout Europe. He settled down in Europe, London, where he established his beautiful studio in Hoxton since 2006.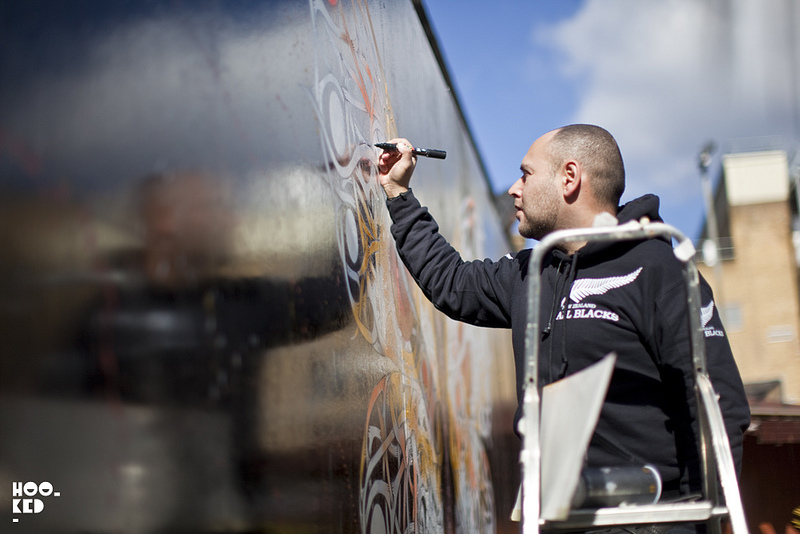 Photo from hookedblog.co.uk
But Schade is not just only in London. He travels the world to show his high quality works and to make people familiar with his distinctive style to obtain recognition. He got several exhibitions on his name in Chile, Germany, America , Japan, South Africa, Paris and the Netherlands.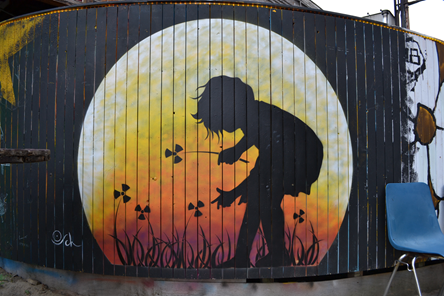 Otto Schade at café Roest.
When we look at his paintings, two different styles can be observed. One is related to a dream world with metaphorical situations in which he explores the boundaries between reality and fiction. The themes he uses are derived from his personal artistic stories. These thoughts are gathered and reflected in a playful and artistic way. Therefore the viewer gets an idea of his dreams, obsessions and political issues.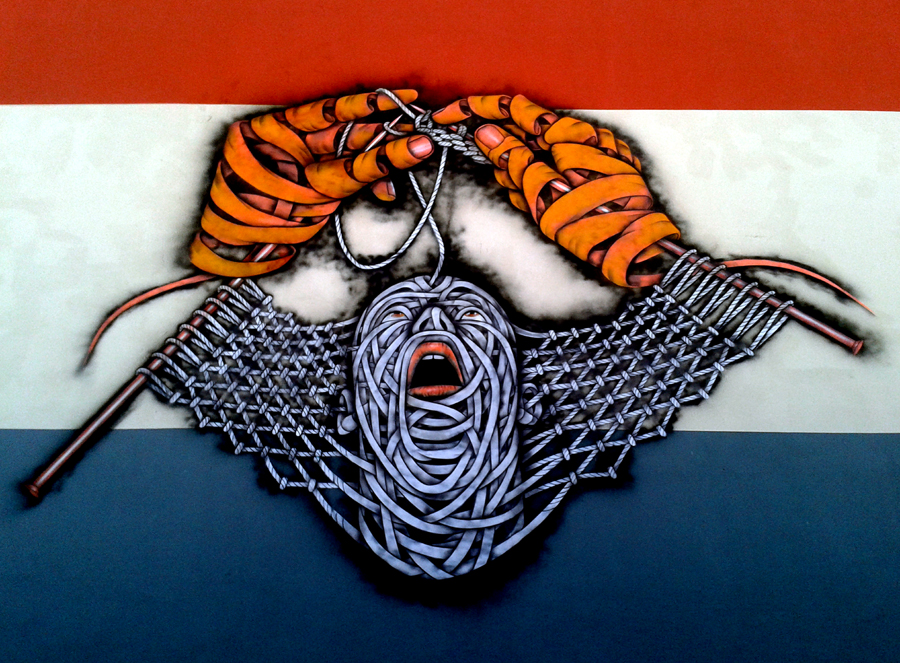 On the other hand, he is experimenting with an abstract world in which a figurative representation occurs in the flatten surface. Depths with several layers of rotating "ropes" are creating an impressive and highly recognizable image of the object. His method involves a purely playful and experimental artistic impulse where images start to take place vibrantly at rather unexpected places and creatures begin to lend the artist to the final result. These figures appear to become free from a fixed form but at the same time these ropes keeps them together.
Both his freer, more expressive style as his stencil works are characterized by power. The powerful meaning of the stand-alone image that evokes recognizable emotions or the power of a message hidden in the image that forces you to think twice about the world we're living in. This also counts for 'Rock, Paper, Scissors'.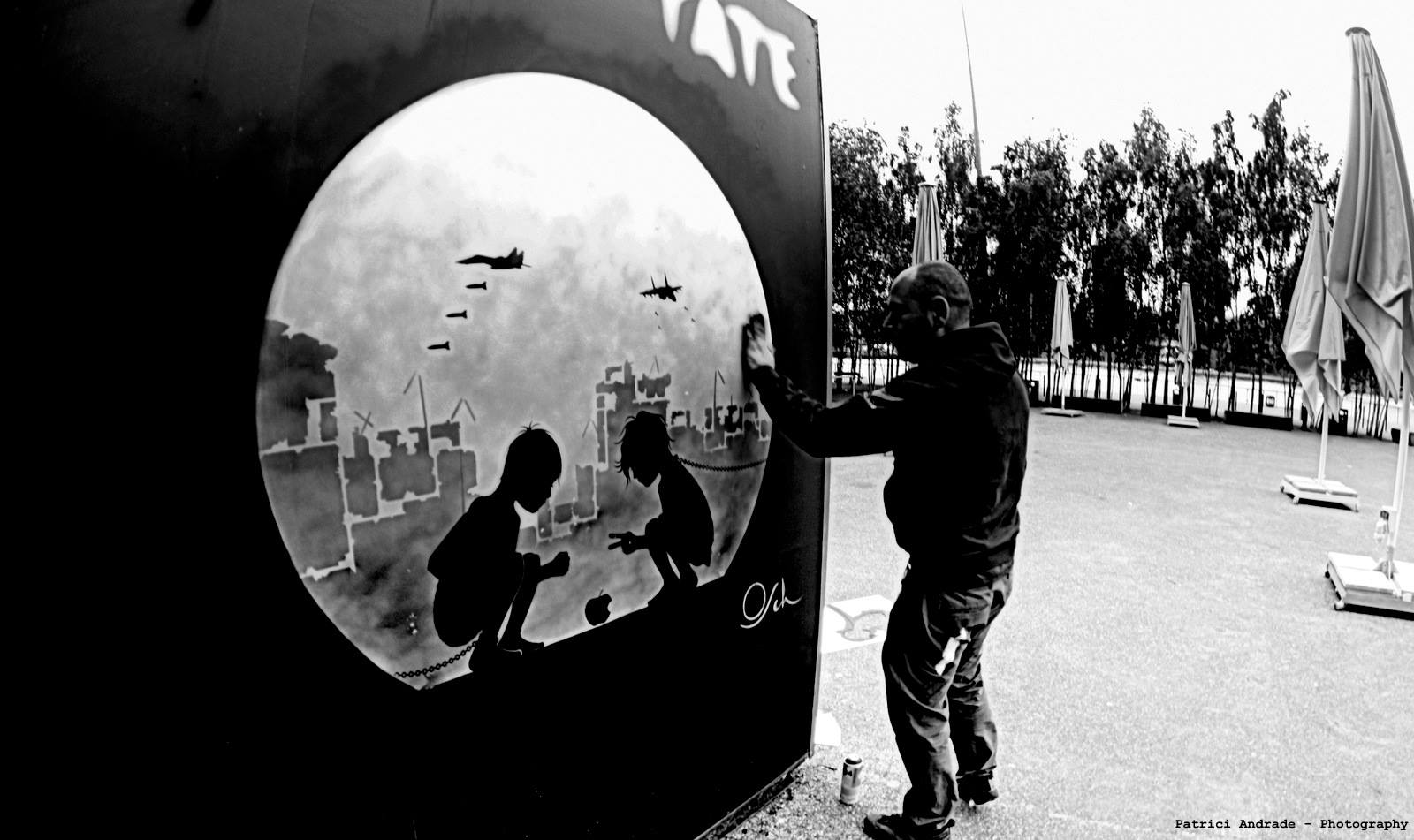 Otto Schade at Tate Modern London.
'Rock , Paper, Scissors' Otto first made on a banner at the Tate Modern in London. The work lasted for several days. Also in Shoreditch you can find this mural piece. And in the summer of 2015 Otto visited Amsterdam for the event 'KingSpray' (organised by Streetart.Today) where he collaborated with Pipsqueak was Here!!!, J Herrera Fuentealba, Pimenton Rojo ( Red) and Juice to paint some. Otto created one of his familiar sunrises in which an touching scene could be seen.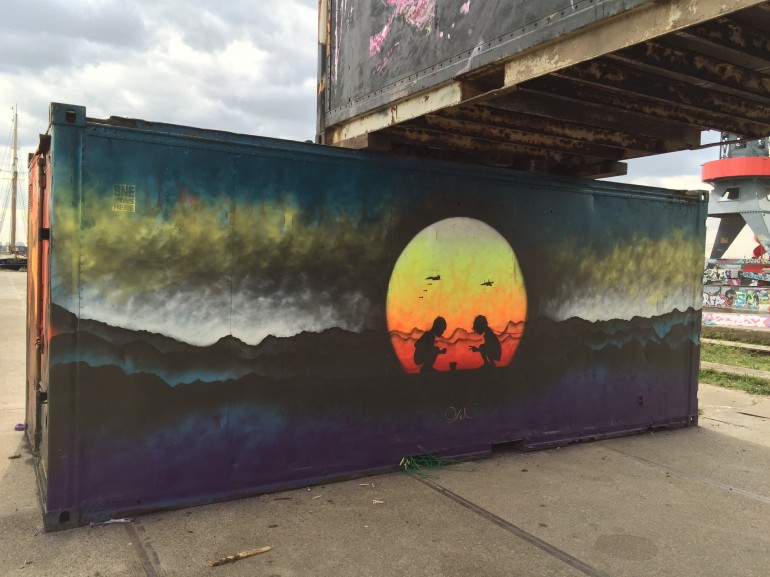 Otto Schade at KingSpray (2015), Amsterdam.
In this sunset we see two children pictured. Both squatted and chained. They both look at the apple which is lying on the floor between them. By playing the game rock, paper, scissors one of them hopes to win the apple. In the background we see two fighter jets dropping bombs.
The apple in this artwork refers to the iconic logo of Apple. With this artwork, the artist wants to show us the contradiction in contemporary society; the huge contrast between the needs of children in a war zone, unlike the children from wealthy countries.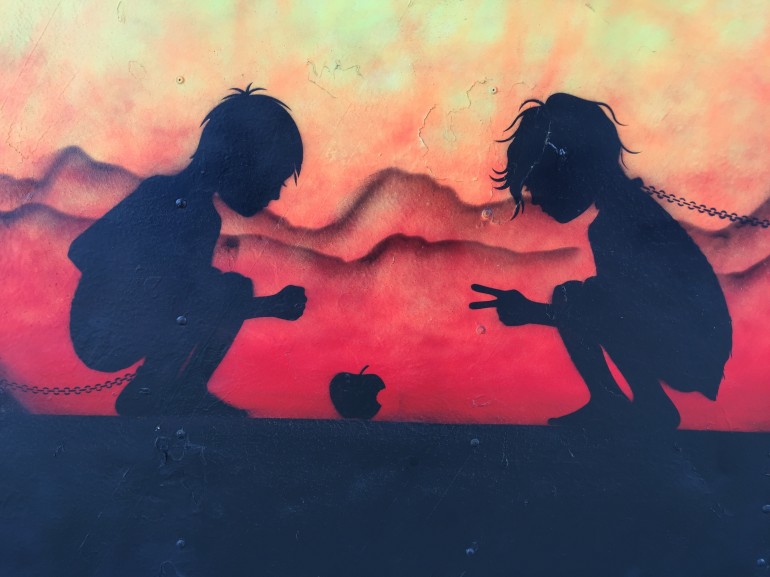 Detail Otto Schade at KingSpray (2015), Amsterdam.
This work shows the involvement of the artist towards the contradictions in today's society. The artist is able to depict the harrowing border between reality and materialism through an aesthetic image which gives the viewer a lot of stuff to think about.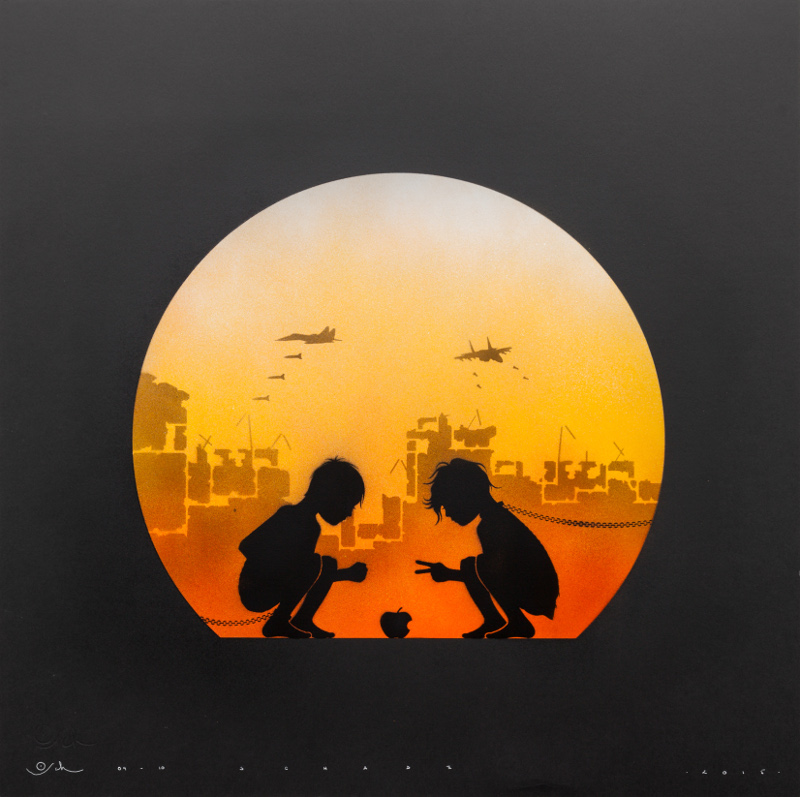 Otto Schade 'Rock, Paper, Scissors' for StreetArt.com
For Streetart.com, Schade translated the outside street piece into a beautiful artwork on paper. The background colours, yellow and orange, compare with the painting outside. And the cutted stencils which show the contours of the children, the jets and the apple are identical.
'Rock, Paper, Scissors' is created by hand with stencils, so all unique. All signed and numbered by the artist. And in an limited edition of ten pieces.