Vinz
Vinz (Valencia, Spain, 1979) currently works and lives in Valencia, Spain. He received his Bachelor of Fine Arts in 2003 from Universidad Politécnica in Valencia.

Vinz 'The Presidency of Barack Obama Collective Show' (censored), 2016. For The MARCY Project, USA. .
Vinz is known for his 'Vinz Feel Free Project' which he started in 2011. He started this project in the streets and galleries over Europe and USA.
The work of Vinz is unique and very recognizable. The artist creates his own version of Centaurs, Sfinx and Fauns by painting realistic heads of animals on large scale photographs of human bodies (mostly naked).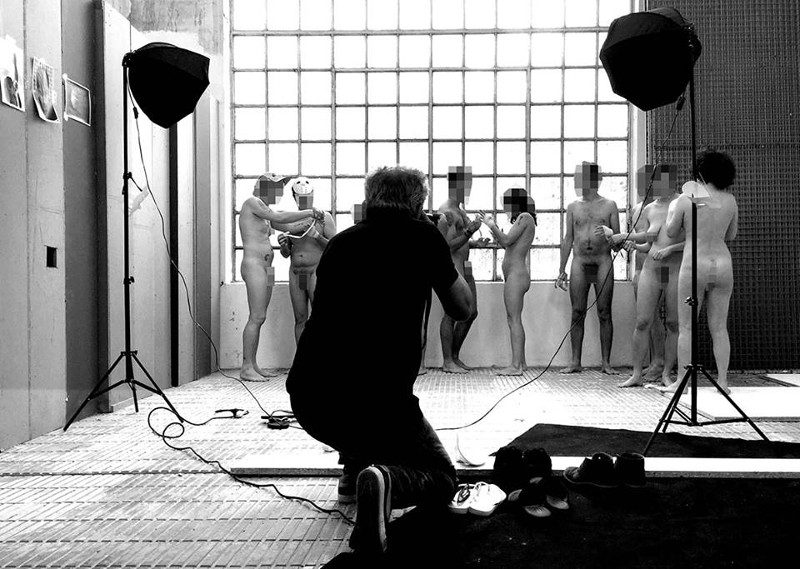 First Vinz photographs the models, either isolated or in small groups. Then he prints these human figures and paints realistic animal heads on them. The bodies are in black and white while the heads are full with colors and details. For the eventual work, his creatures are set in a particular situations so they all tell their own story.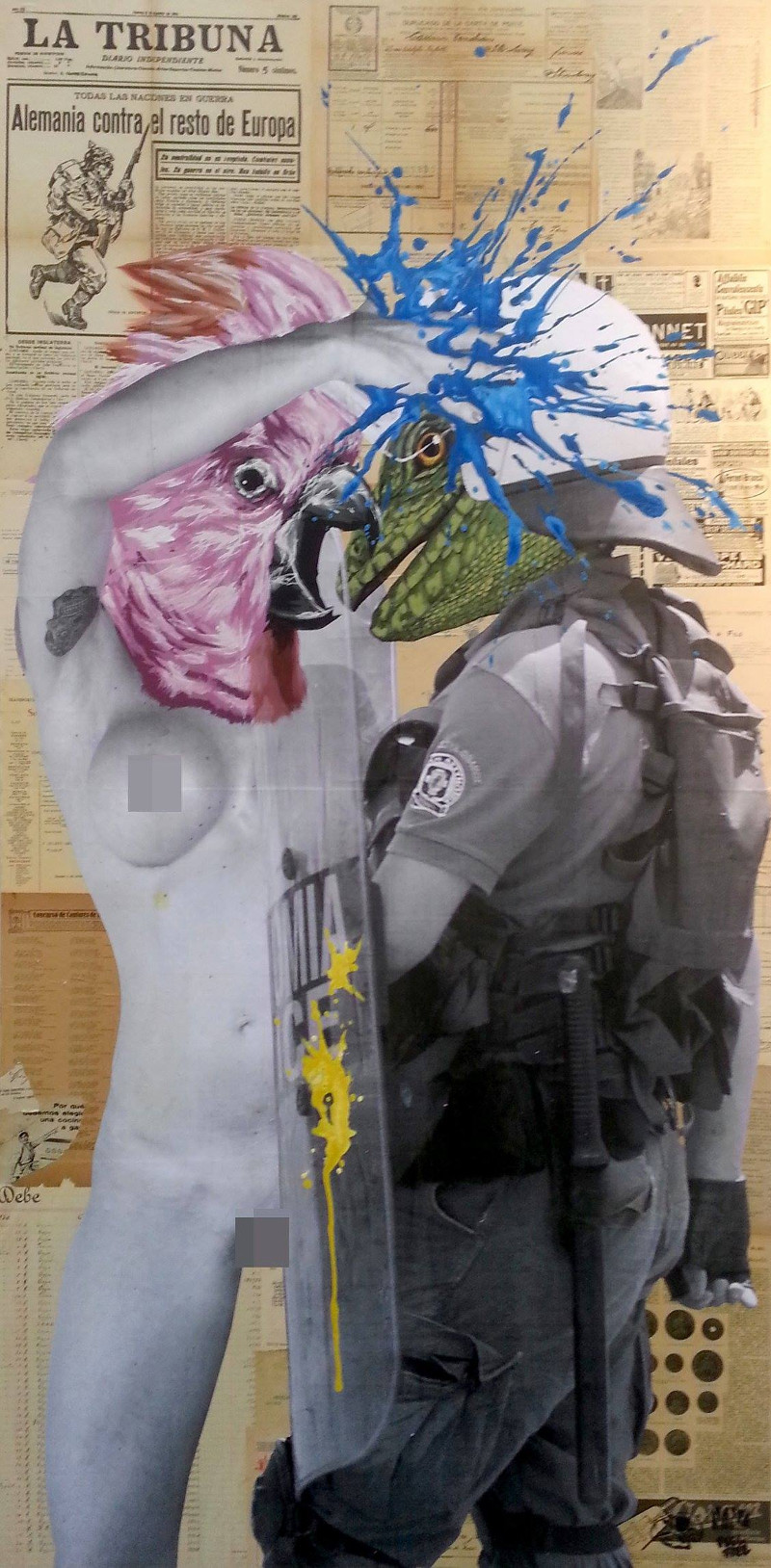 Vinz 'Fight', 2017. Original artwork for Scope Art Basel in New York.
The viewer can read Vinz his work through the basis of a system of symbols. Birds signify freedom and fish represent consumerism while frogs and lizards convey authority. His latest character, Minotaur, represents resistance. These representations are extracted from the Bible (Genesis). As Vinz discribes; ' Mayas, Aztechs, Sumerians etc. talk about the figure of reptile as the animals which take control over us, like police in our world. And the frog appears in Apocalypse scenes and is responsible for Humanity disasters. This is why I use them to build men in suit characters.'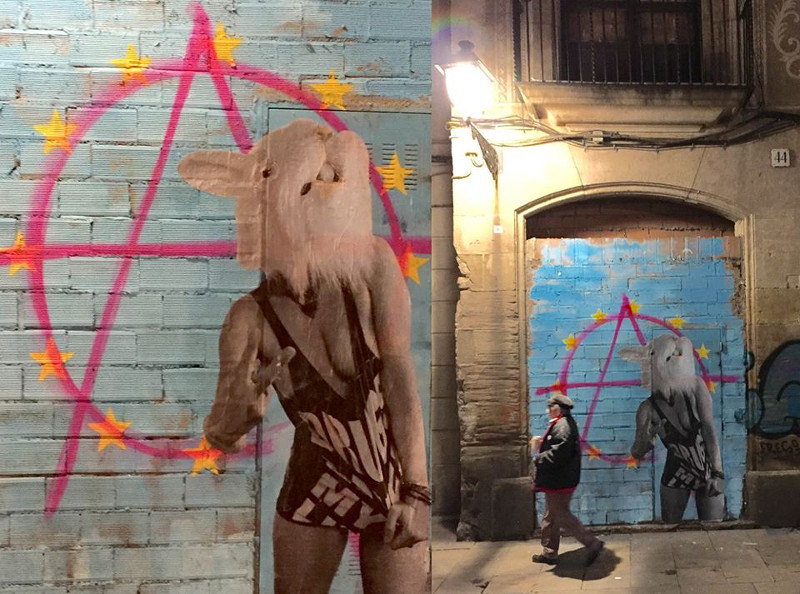 Vinz 'Anarchy in the EU', 2016. Barri Gotic, Barcelona.
We notice a difference between his streetpieces and his original works and canvasses. For the originals Vinz creates a background of old letters, papers and journals. This gives the work a warmth and nostalgic feeling. On these background he creates his figures and paints the animals heads in gouache. Some works are finished with enamel.
For his work on the street Vinz creates paste- ups, life size or bigger, which he prepares the same way in his studio. He pastes the entire result on the wall. Vinz also created some walls entirely by hand. For example 'Breastfeeding Squad' (see below). The images Vinz uses for his murals come from photos he personally took during police violence in his home country.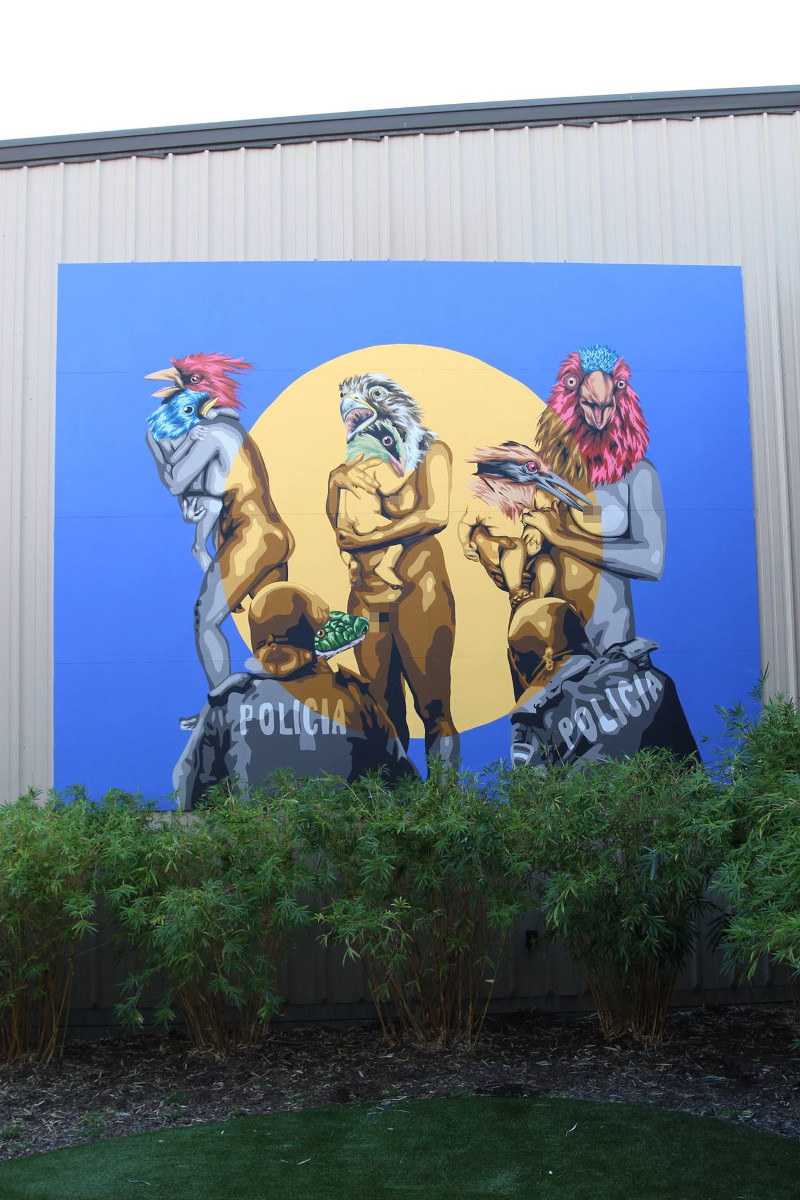 Vinz 'Breastfeeding Squad', Munchkin headquarters. Los Angels, 2016.
His Feel Free project has several interesting aspects. The works have a deeper meaning. They are political, related to events in today's society and in a playful way they show us the 'naked' truth. Vinz his naked subjects are meant to question our belief in freedom. The animal hybrids represent the presence of autority in our world. Reptiles as violent policemen and bankers or businessmen who rule the world we live in today.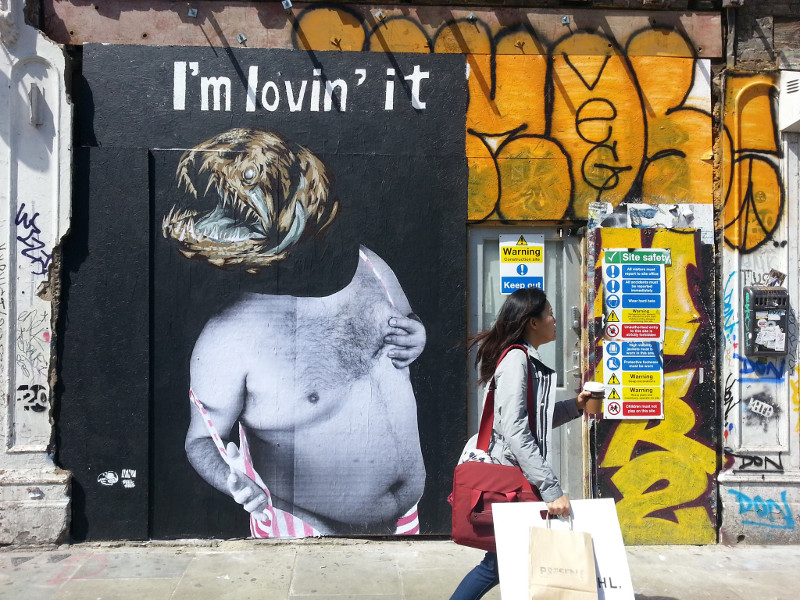 Vinz 'Honest advs.: sdlanodcM', 2013. Redchurch St, Shoreditch, London.
For streetart.com Vinz created 'Love & Pride'. A serie of ten handfinished screenprints. 'PRIDE' is painted in silver. In gold the symbol of lesbians and the inverted triangle of homosexuals and in yellow the iris of the eyes. The work is printed on Gvarro Biblos extra white paper (160 gr.). All signed, numbered and stamped. They come with an original COA by Vinz.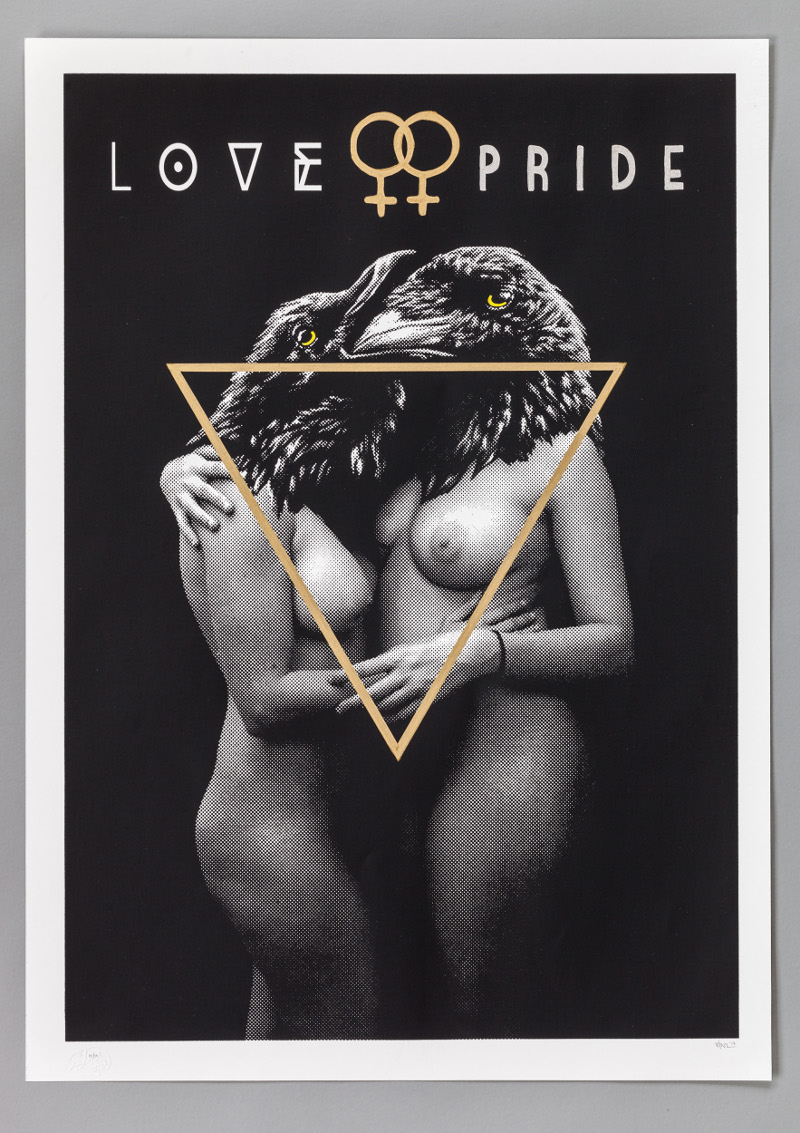 Vinz 'LOVE & PRIDE', 2017. Screenprint, details hand painted.
We also sell one original. This is a beautiful artwork on wood. He used the same image as the print, but this one is the original and completely handfinished. The animal heads are painted with gouache, 'LOVE' in white paint, 'PRIDE' in silver and the signs in gold. Signed at this front.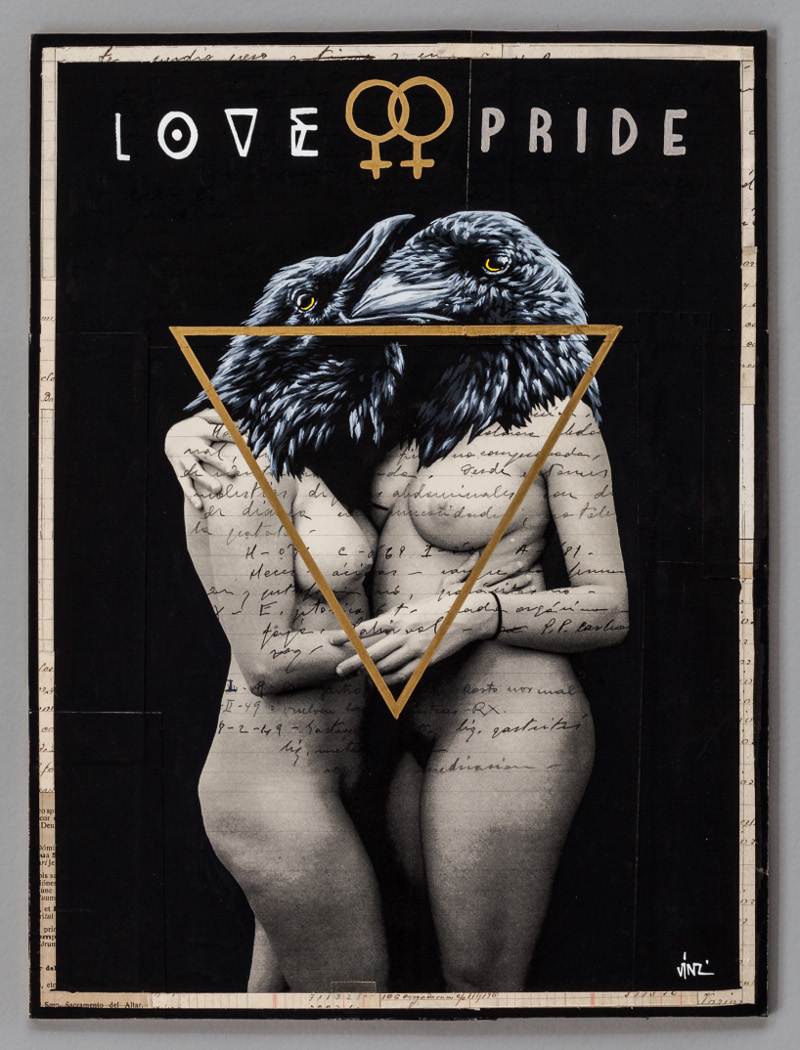 Vinz 'LOVE & PRIDE', 2017. Original on wood.
Both backgrounds (front and back) are plastered with old papers. Front with old letters. The back is a artwork on its own. It's filled with old newspapers, letters, and drawings. He sprayed his logo over it and it contains the stamp 'original Vinz Feel Free'.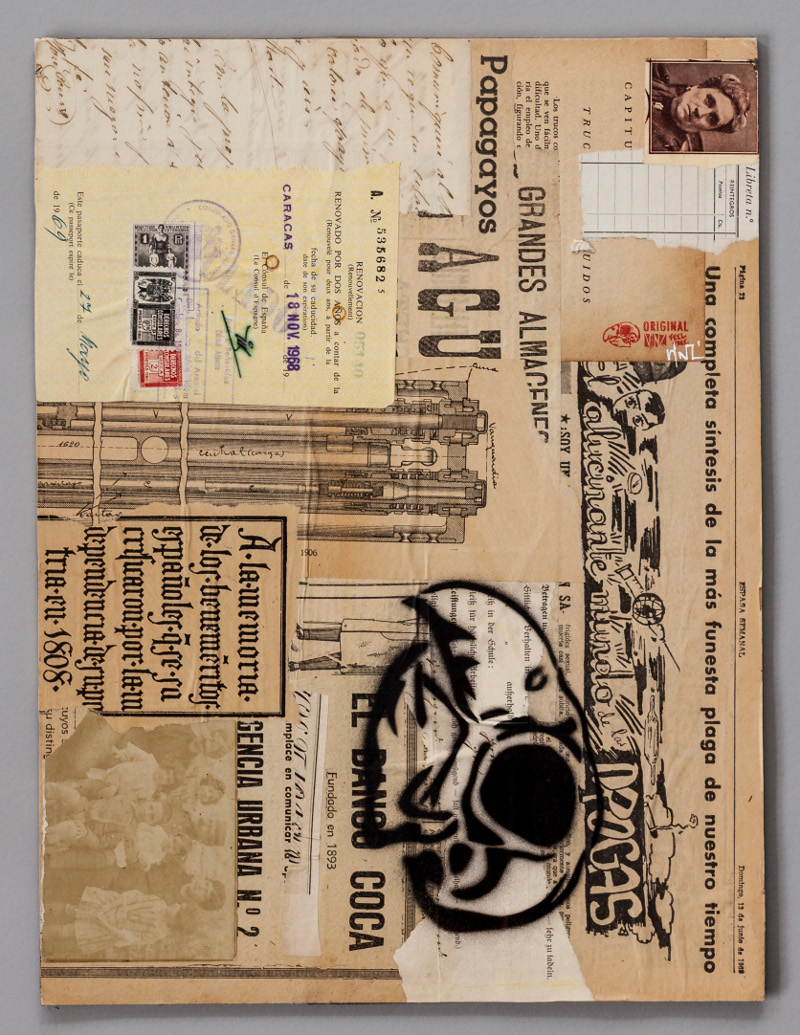 Vinz 'LOVE & PRIDE', 2017. Back original on wood.
With this series Vinz wants to support LGBT (Lesbian, Gay, Bisexual and Transgender) which use to be present in his artworld.
Written by Johra Kornegoor
July 4th, 2017 11:34 PM