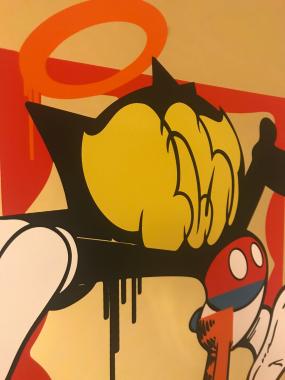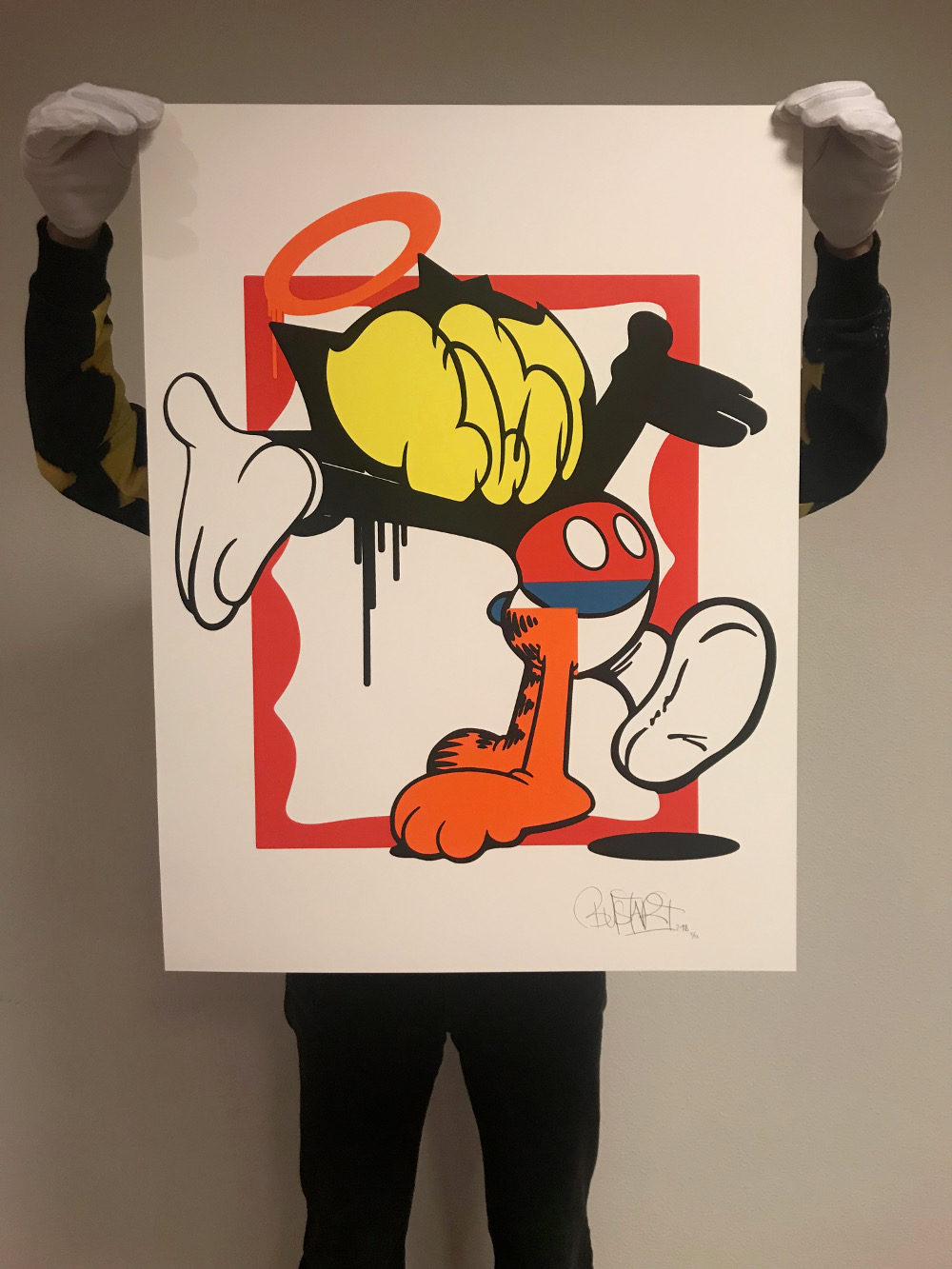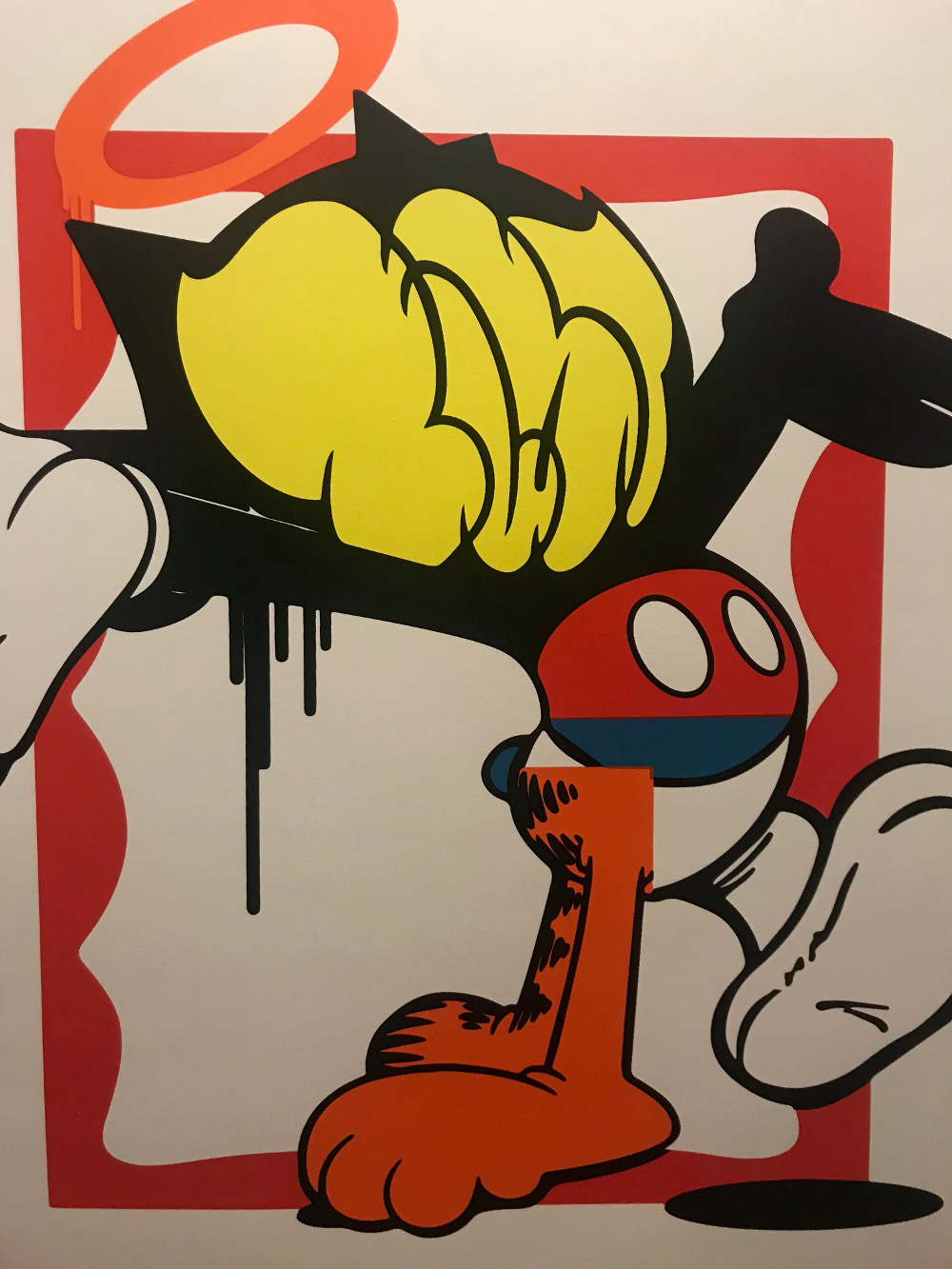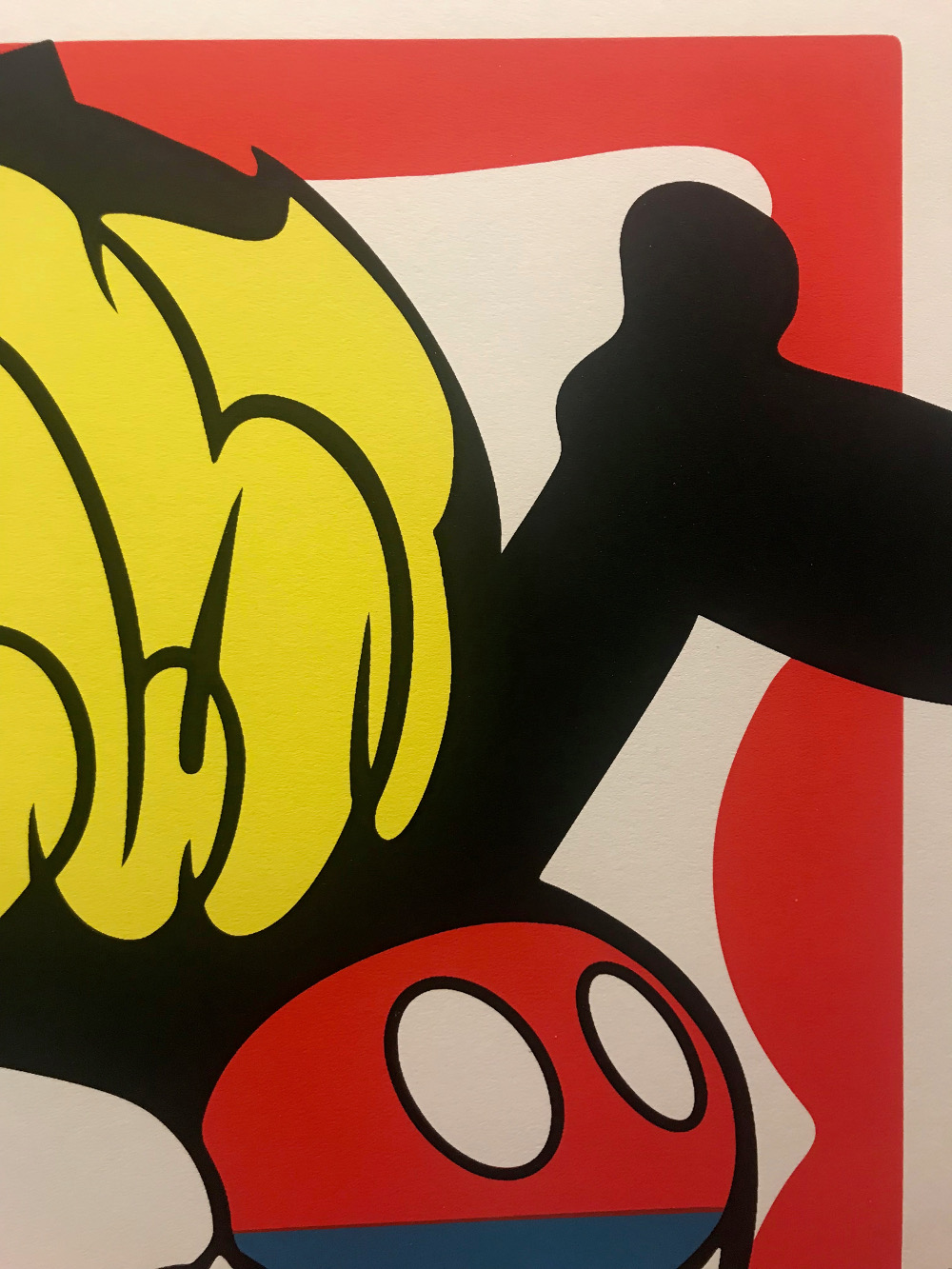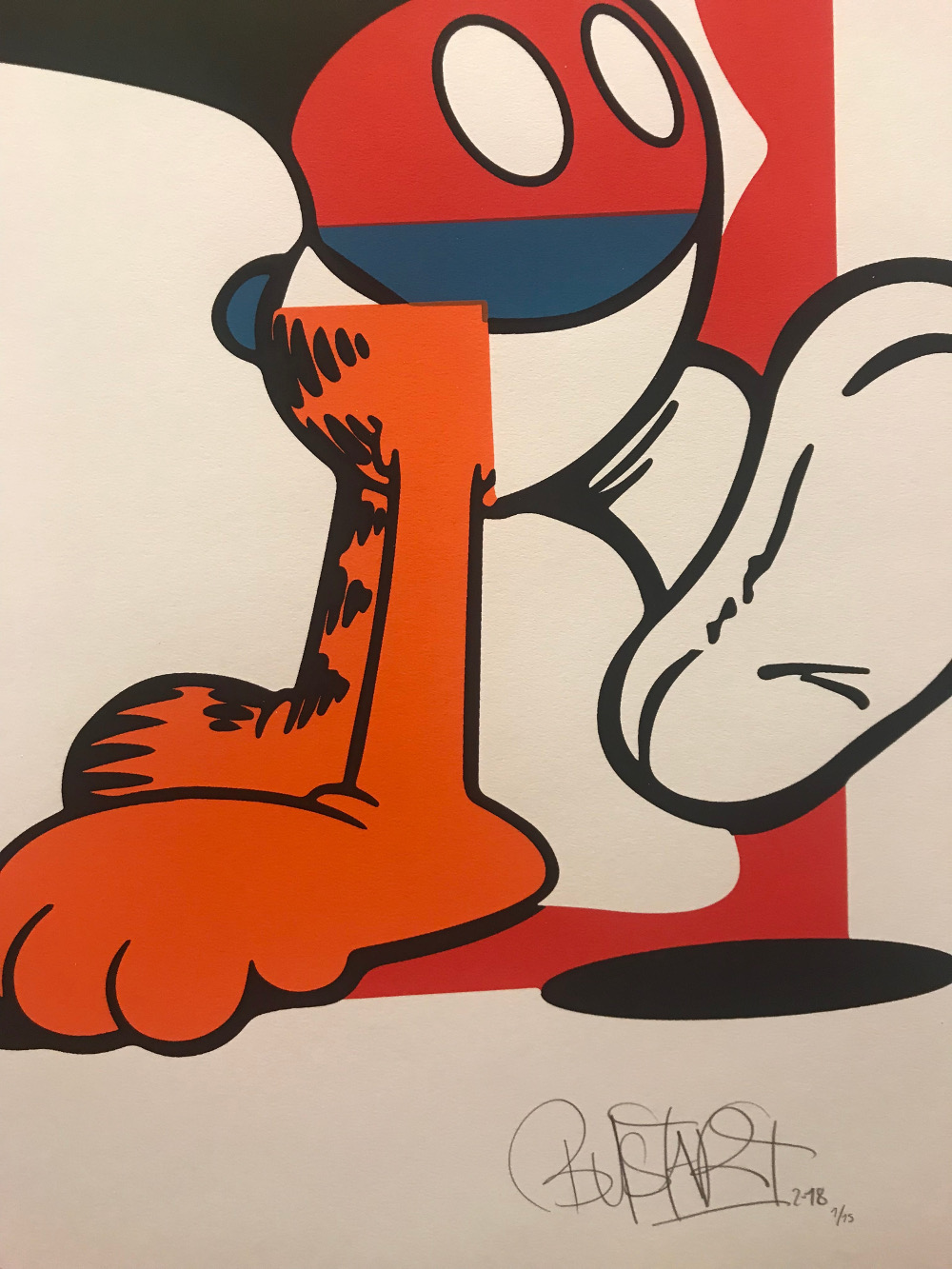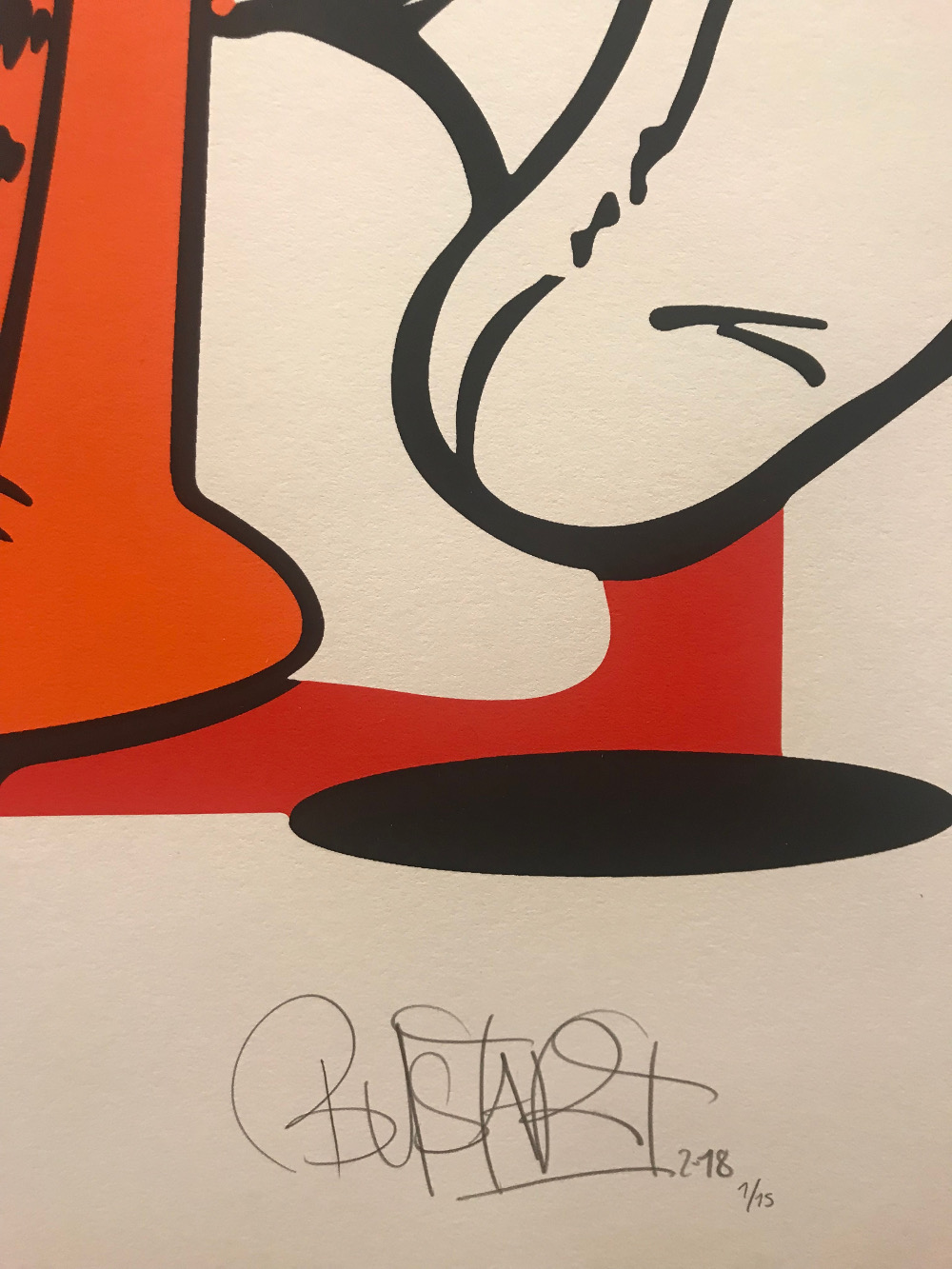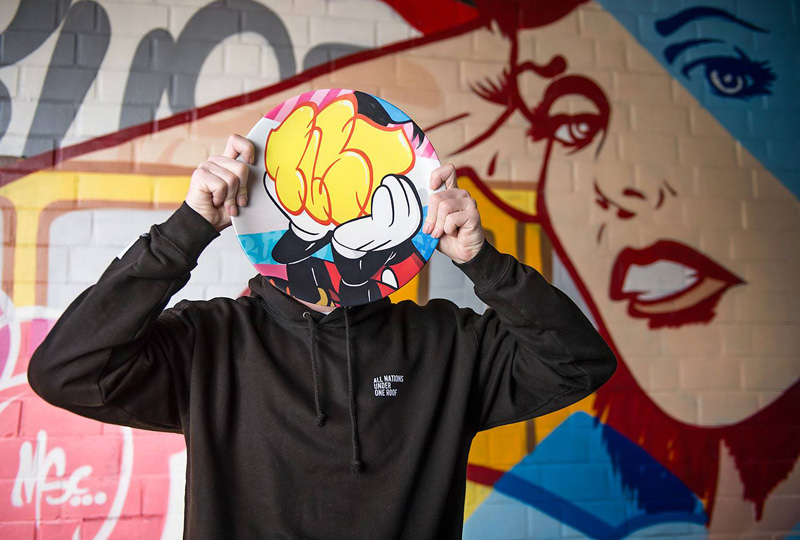 Bustart photo for Urban Nation. Made by Nika Kramer. (Berlin, 2017)


Bustart (1983, Switzerland) is a very active artist based in Switzerland. He uses many techniques and produces a lot of work. From simple graffiti to work of stencils that consists of hundreds of layers. Also free hand he is very strong and he creates the most beautiful works of art. He creates a lot of cool stuff like sculptures, paintings and prints. And his stickers are a real must have. Bustart gets a lot of recognition for his work and he's a well known name in the streetart scene. The most recent development in his art is continuing his own developed style called Graffitipop. A mix between graffiti and elements out of our pop-culture.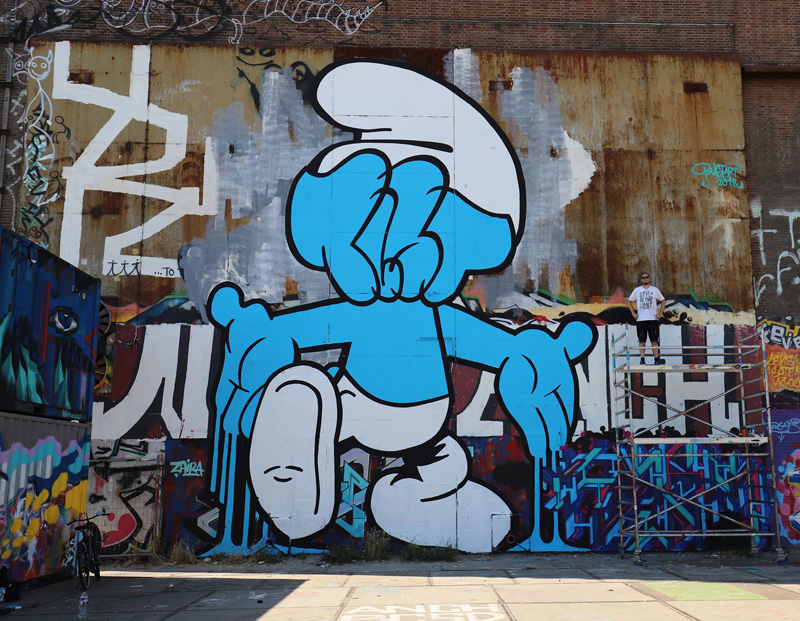 Bustart 'Smurf Face' massive mural at NDSM. (Amsterdam, NDSM, 2018). Made possible by StreetArt Today.






Bustart started in 1999 with making graffiti. While he was tagging on the streets, he soon developed his own unique style. Since 2005 Bustart started combining his graffiti letters with characters and elements from our popculture.
Placing stickers, stencils, and posters on the street during his travels through Europe inspired him to develop his style a bit more. He was looking for more depth in his work. His aim goal became; to communicate with the passenger through streetart.
From then on he shows a wide repertoire of technical installations, political stencils and (small) works on the street. His cartoon-like figures began to take a more important place in his work than the letters.

This development also led to a new technique. In 2008 Bustart decided to focus on making stencil work. His figures are hand cut and then painted on the streets. In 2011 he decides to fully focus on making art en he settled in Amsterdam. Due his fully focus on art we see a quick progress in his works. The simplicity makes places for very complicated stencil works. Some of them consist of hundreds of layers. A good example of this are the many cityscapes he and his wife Zaira created.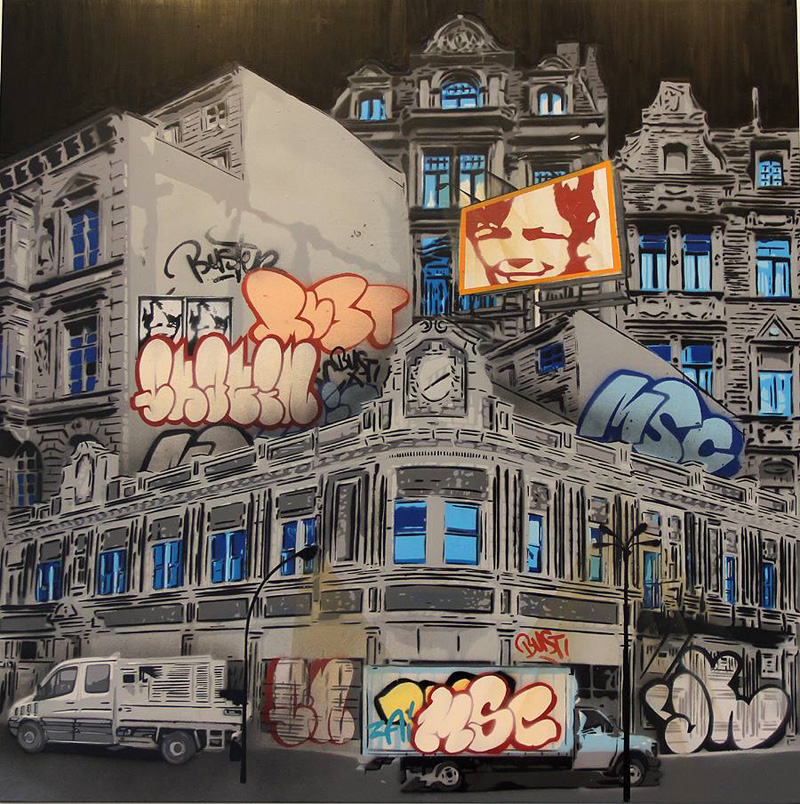 Bustart 'Writers Corner' stencil on wood, 60x60cm. (2014)


Their move to Amsterdam resulted in more than 200 works in the Dutch streets. This decision also has provided a boost in his creative development. In addition to creating lots of works of art he also organized (together with Zaira and their crew Multisyndicate) interesting Pop Up shows and various streetart related events.

Bustart is able to push himself to the maximum. His very productive and creative mind resulted in the fact that he's now an established and much loved artist. Graffiti was his undisputed first love which he never gave up, but he has managed to develop this into a very interesting own created style called; Graffitipop.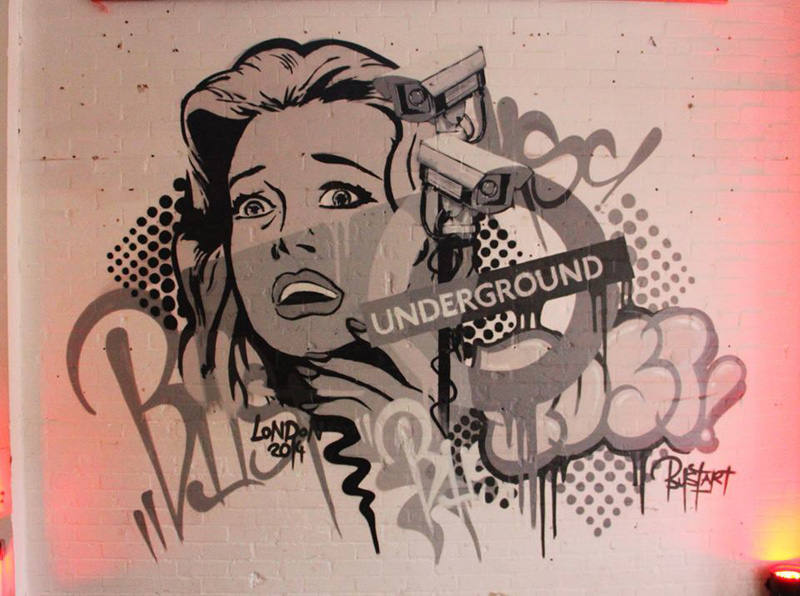 Bustart 'Underground' (Hackney, london, 2014)


The first Graffitipop work he created in 2014. In the work we recognize elements of Pop Art, the dots and girl of Lichtenstein. (Using elements of Lichtenstein is an aspect we see through his whole Graffitipop ouevre, we can see it as an ode to the American artist). Bustart fluently combines these elements with elements from the graffiti world. Contemporary tags, cameras and throw-ups appear to be a very good combination with elements of Pop-Art. A new, distinctive style for Bustart is born.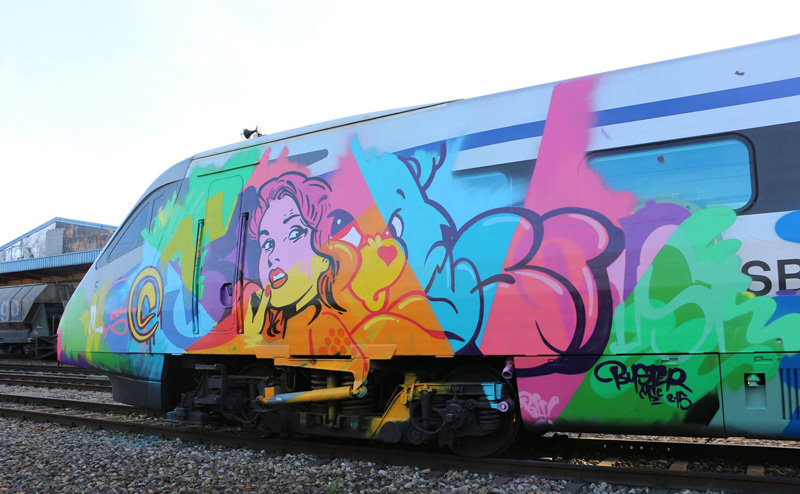 Bustart train. Münchenstein, Switserland (2015)



Bustart, Zaira and MSC crew 'Hola!' Barcelona (2017)


Since 2016, we see that the focus in his works is making Graffitipop. The possibilities seem endless. Colors, elements, figures and tags are easily combined with each other. Bustart creates the most beautiful works in a short period of time.

Interesting to see is that over the years this style evolves. He pays more attention to detail and the works become more complex. Cartoon characters are combined with Pop-Art elements and graffiti. Colours are fading into each other and into the foreground. We also see that the multiple characters become one figure in a central composition.



Bustart; sticker in Amsterdam / studio / tag en throwie.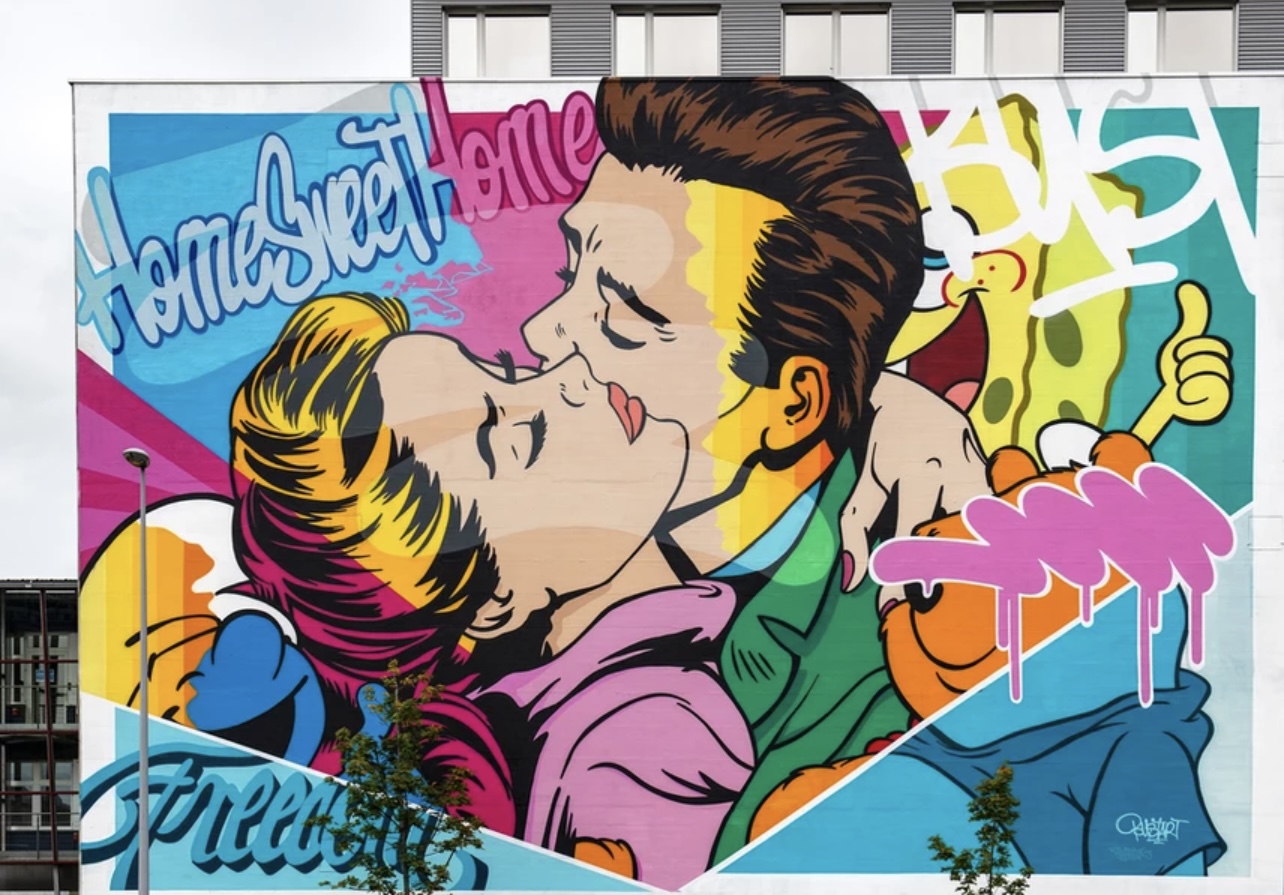 Bustart 'Home Sweet Home', Basel (2020). Photo by Nika Kramer.



This evolution in his style is clearly visible in the work ' Cut Up '. Made in Berlin Teufelsberg (20 sept. 2017). We now see not just one recognizable figure, but several cartoon figures that are combined into a single image. The original characters are taken out of their context in order to form a new image.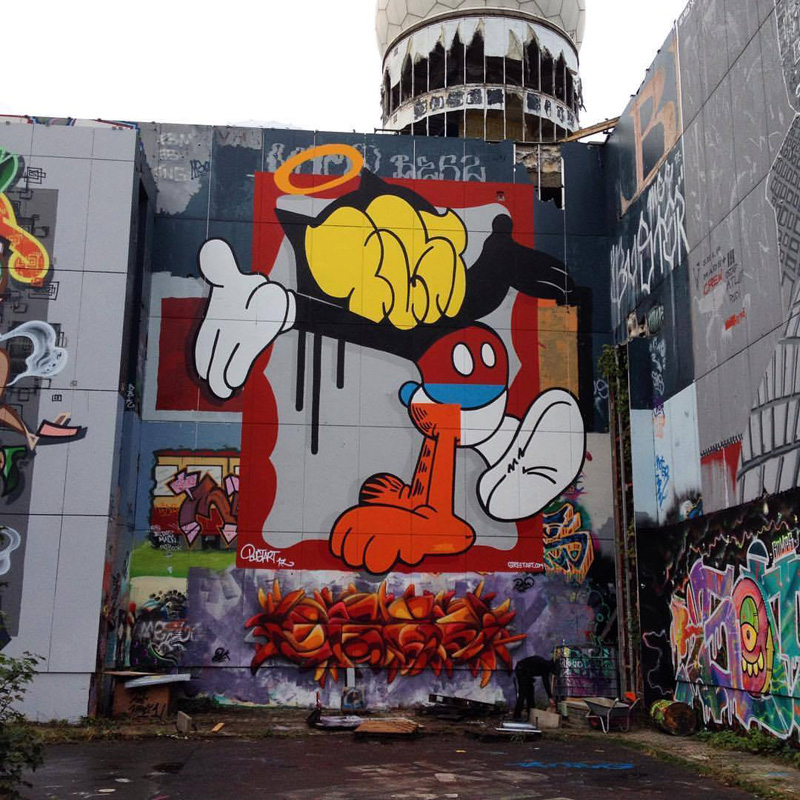 Bustart massive wall 'Cut Up' at Teufelsberg, Berlin (2017). Made possible by us, StreetArt.com


Bustart appropriates existing elements from the cartoons of our youth. Then he gives them a contemporary interpretation. By this creative process, our cartoon culture from our youth has reborn.

The iconic figures Felix the cat, Mickey Mouse, Garfield and the Smurf are fused into one new figure. An interpretation in which the artist grabs the nostalgic character of all figures together in one single image.

In the face of ' Cut Up' Bustart has made the graffiti-letters ' Bust ' and he placed a red frame around the character. This frame refers to the classical labels/stickers which are commonly used by graffiti writers. This way, Bustart created a very nice combination between graffiti, cartoons and our pop-culture; Graffitipop.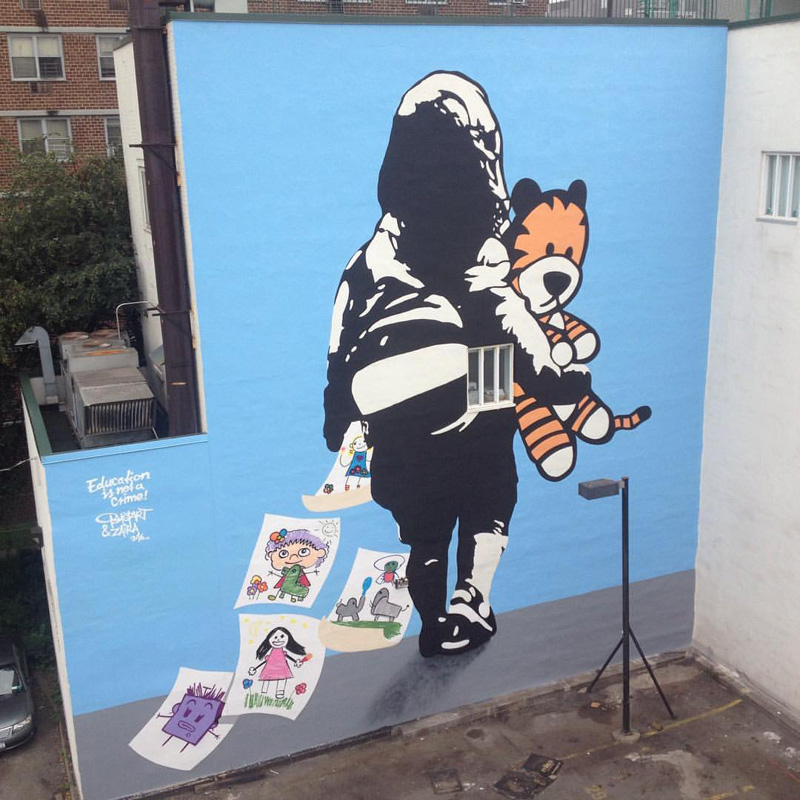 Bustart and Zaira 'Lilly and Hobbes; education is not a crime', in Harlem, New York (2016). Made possible by Street Art Anarchy.


But in addition to making Graffitipop he also creates works of stencil and free hand murals. These are of a high quality. In addition to working on the street, canvases, prints, longboards, cars and buses feature his most beautiful creations. His commissioned works refer to the situtation. Together with Zaira, he created the mural " Education is not a crime " for a school in Harlem, New York. And in Berlin we see this massive building rising up in the sky.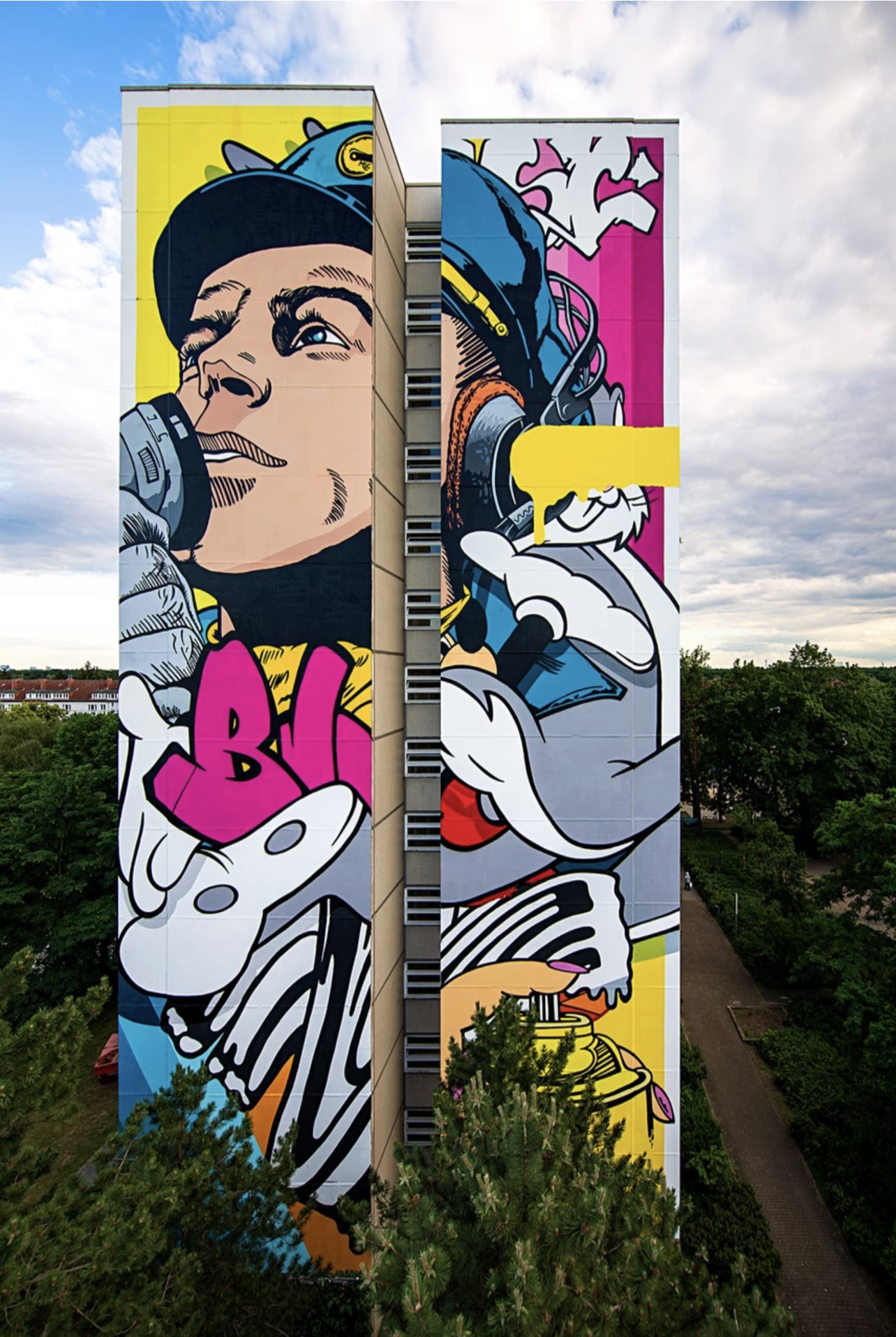 Bustart in Berlin Tegel Airport. (2020). 40 meters high. Painted with Sket185. Photo by Nika Kramer.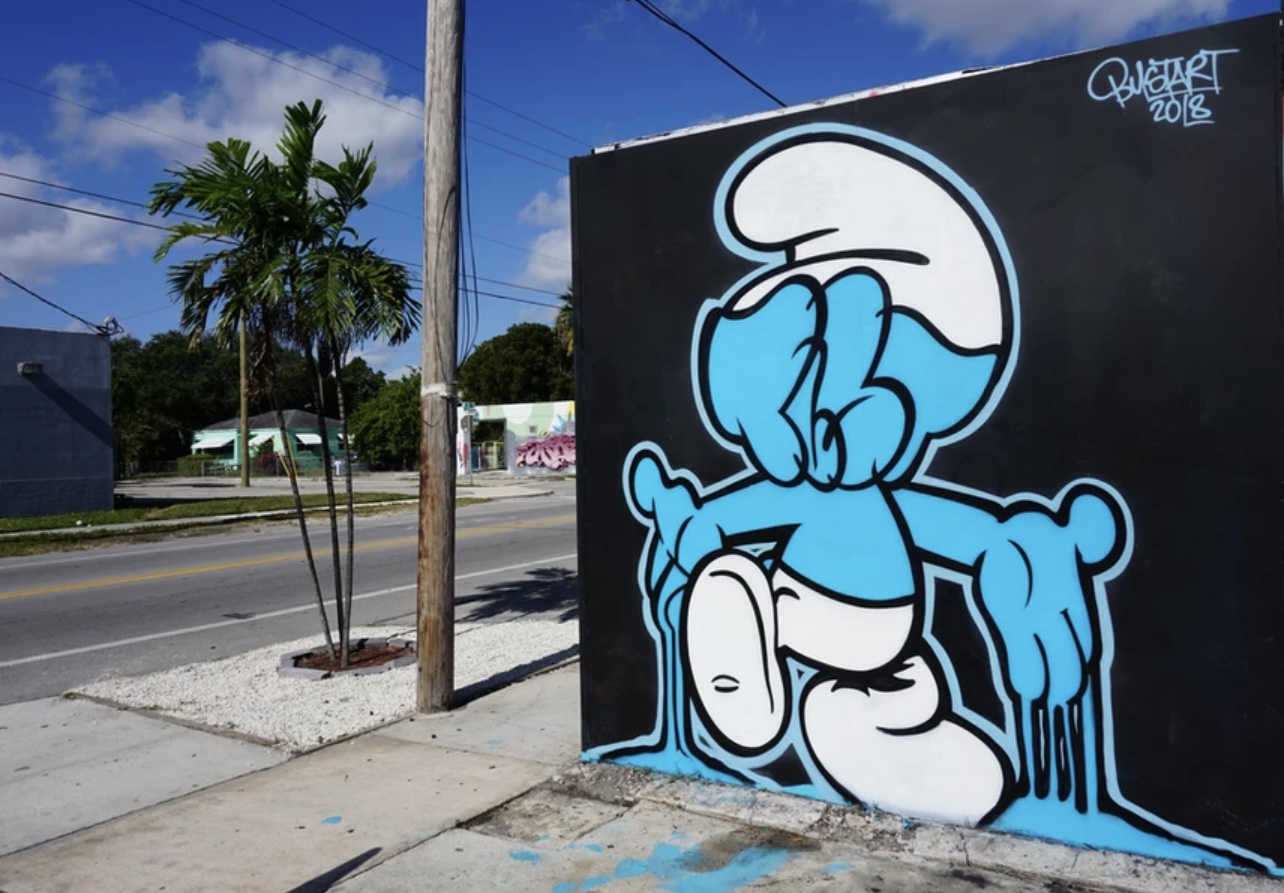 Smurfface in Wynwood, Miami (2018)



For streetart.com Bustart created a unique edition of his art toy SMURFFACE.
After the sold out edition of SMURFFACE (500 pieces) through STREAMS (which were not signed) we now offer a really unique limited edition of 25 art toys.
This edition comes in two different versions.
One version is signed by Bustart with a Molotow chrome marker. This marker gives a mirror effect, really nice. The second edition is signed and handfinished. Spraycan and markers are used to put his throw up 'Bust'. This trow up edition will be delivered in a unique handsprayed box. A artworks on it's own.

In Bust we trust!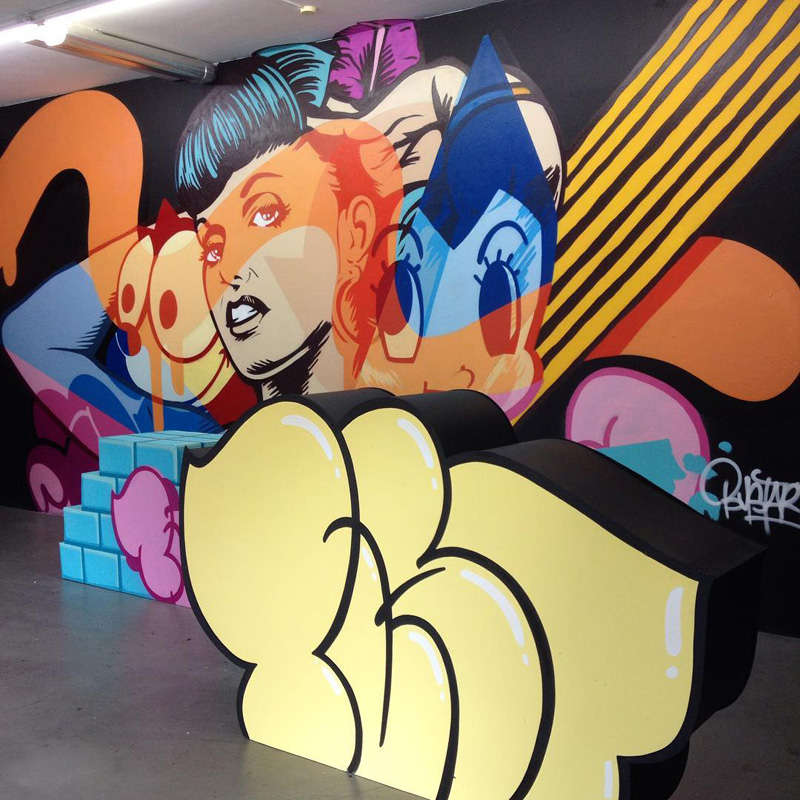 Recent shows and festivals;

I.C.O.N.S companions of my life. STREAMS Gallery Hong Kong (November, 2020)
The Versus Project at Urban Nation Project Space Berlin (June, 2020)
Change of Colors. Basel (September, 2020)
Miami Wynwood Walls (December, 2018)
Graffiti without Gravity project at the ESA (May, 2018)
'Mon Secret Jardin' Gallery show Guillaume Daeppen Gallery in Basel (17 March- 5 May 2018)
Urban Art Festival Basel (7 November.2017)

Written by Johra Kornegoor, December 14, 2020. 13:19 PM CET