Do you want to buy an artpiece from Multi Syndicate? Please take a look in our shop

Multi Syndicate Crew (MSC) is a collective of artist from all over the world active in and around Amsterdam, a general bunch of misfits that love nothing more then painting, no matter what the surface might be. Organizers of several successful weekend pop up stores in Amsterdam. The maincrew consists of Bustart, Zaira, Skatin Chinchilla, Karma83, Sket185.



Bustart:

Bustart (1983, Switzerland) creates many beautiful murals in Amsterdam. You can recognize him of his clean, colourful design and use of his stencils. His works contain mostly a critical opinion about society. In this way Bustart likes to give the observer something to think about. In addition to the murals he creates individual pieces which also have a tight design.

Bustart uses many techniques. He prefers to work on walls, which he edit with spray cans and markers. The designs he creates with the stencils can consist of many, many different layers. Previously we sold "The Raccoon Brothers" and "Spraycan Budda" by Bustart.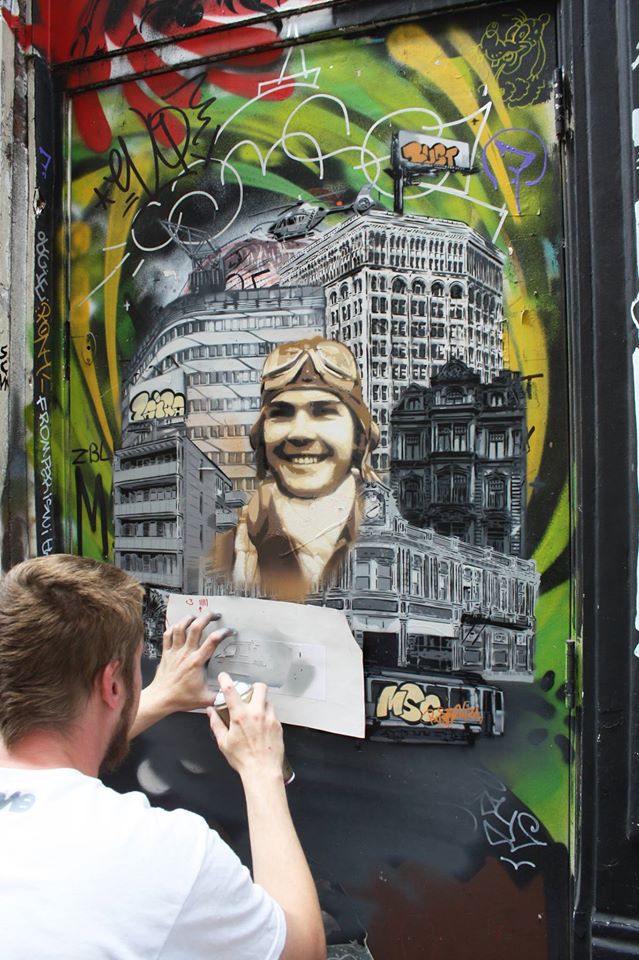 Zaira:

Zaira (1983, Switzerland) moved with Bustart to Amsterdam. The Spuistraat is one of the streets where you can see her work. Her style is very recognizable. She usually works with brightly colored animals such as birds and butterflies or she creates attractive female figures. The decorative elements around the figures make the piece a complete unit. She uses many different mediums such as acrylic, stencils, spray cans, oil and plaster. Actually, there is no medium that she doesn't use. She adds lots of stencils to create multiple layers. This gives the work a nice depth.

Bustart and Zaira are a productive street art duo in Amsterdam. In the spring of 2014, they showcased their new collection in the GO Gallery (www.gogallery.nl). We already sold on streetart.nl the artwork "Flow" of Zaira.



Skatin:

Skatin 'Chinchilla (UK) spend most of his time in fully painted skate parks. He began photographing streets of Amsterdam, but soon found out that shooting was not enough and he started to make street art himself. This active artist makes collages, paintings, stencils, stickers and murals. In the meantime in Amsterdam he is known as an influential street artist who is inspired by hip-hop. He does not have a particular style, but is guided by music and culture, leading to new styles.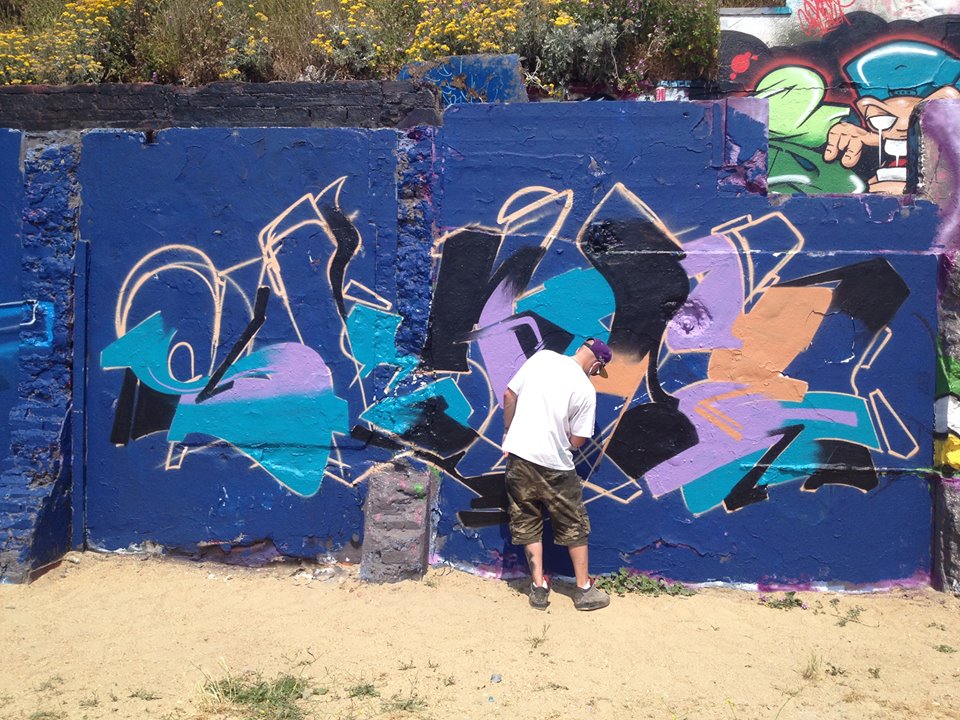 Karma83:

Karma83 (UK) is the girlfriend of Skatin' Chinchilla. Since her childhood she loves to draw and sketch. Today she makes street art and she considers it a gift to make someone day more beautiful with her art. In Karma83's artwork her passion of breakdancing, reggae, karma, hip-hop and peace come together. She uses these subjects often as themes.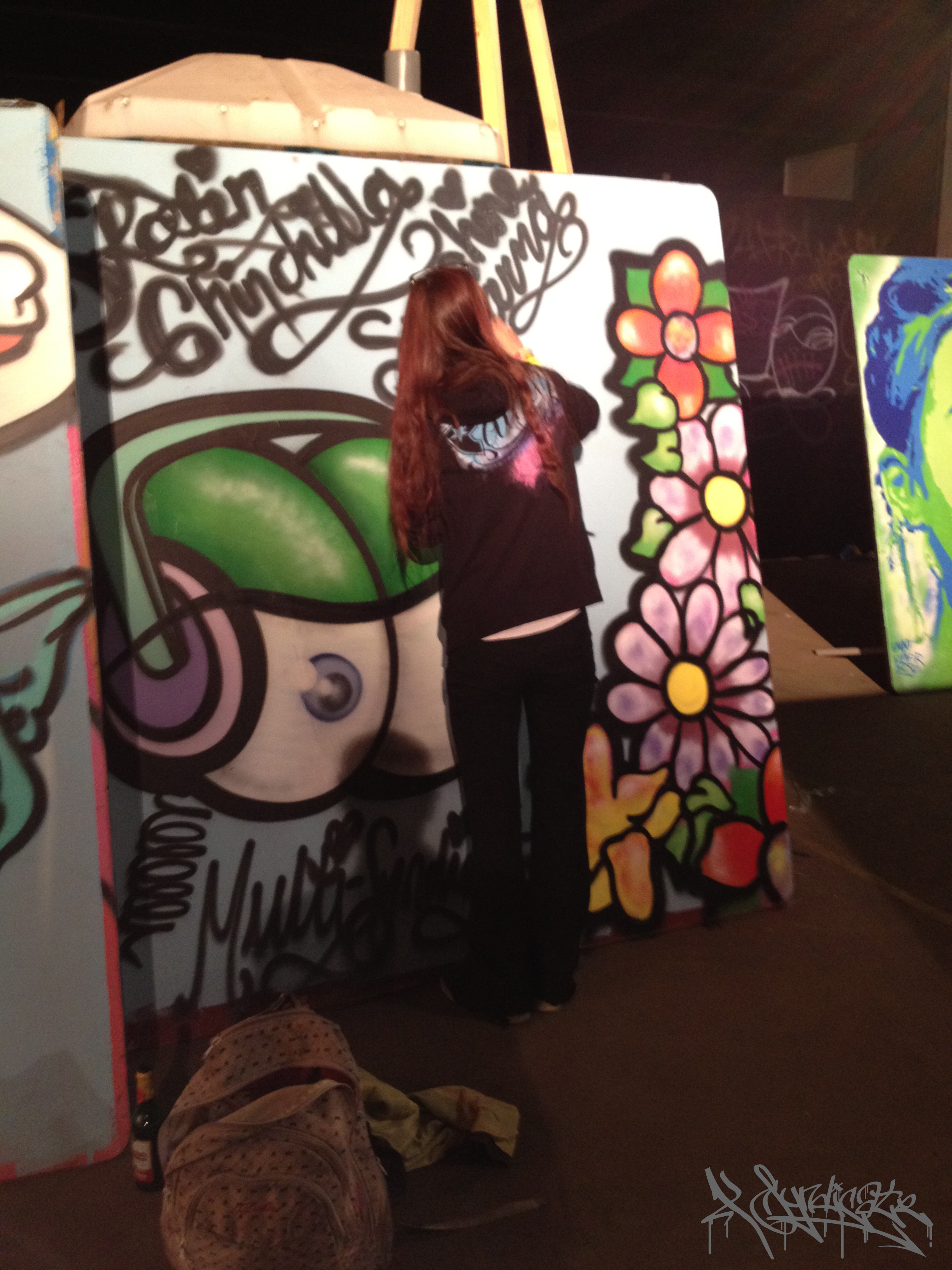 Sket185:

Sket185 is a Dutch graffiti / street art artist who is known for his cheerful iridescence, strong contours and bright designs. With 29 years of experience, his art is a delight to the eye. His cheerful figures often pop up on public places. His works is mainly seen in and around Amsterdam. Sket185 has participated in several events including Urban Outlaws (June 2013), Kosmopolite art tour (June 2013) and Stick Together Festival (April 2013). Also on this events his colourful creations stands out immediately.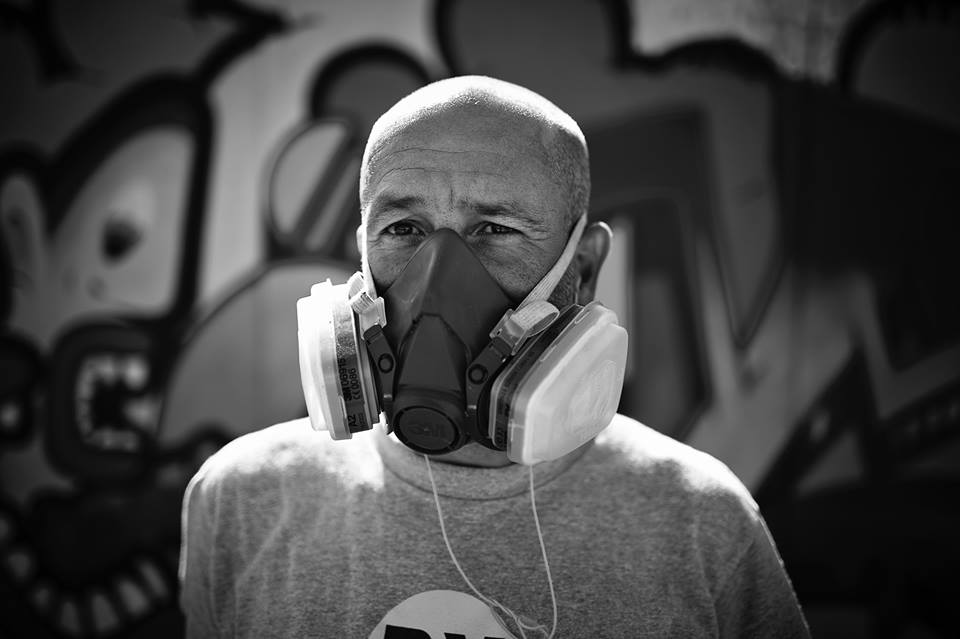 DHM:

Hugo Mulder (1972, Amsterdam) is a multifaceted artist with his own studio. He started with graffiti, but developed later as a graphic designer and painter which reflects in his murals and stickers. His portfolio is very impressive because he has designed websites, logos, flyers, cards, advertising campaigns, illustrations and posters. Among others, he has worked for big names like O'Neill, Nike and Adidas.

His past-ups and stickers are typically known for the tattoo / tribal style which he uses to (mostly) create animals. His paintings with female beauty as a theme are also very recognizable. It is an abstract style in which he gives depth to faces and bodies by using many lines and different layers. In addition to the use of acrylics, he also does a lot of art prints, canvas and stencils. In May this year he had a great soloshow at the Original Dampkring Galery.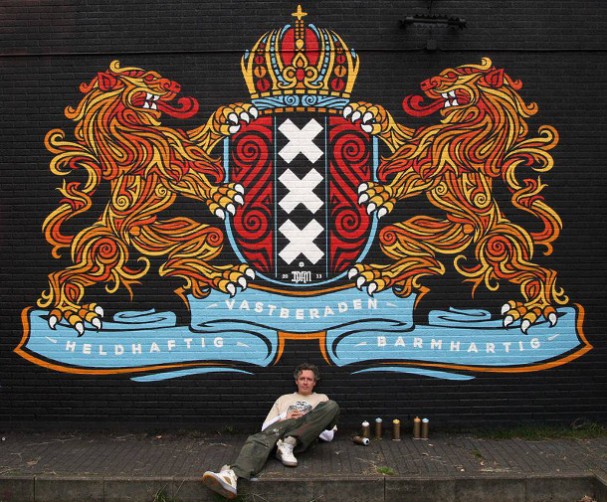 Lastplak:

Lastplak, a group of several artists, has been around for over 10 years and is (primarily in Rotterdam) an established name in the streetart scene. Not only walls get a makeover, even on canvas, stickers, t-shirts and the walls in children's bedrooms they go wild. They mainly are busy with live painting at festivals, exhibitions and other events to celebrate. Because each member of Lastplak has its own style, combining several members gives a witty color explosion which you can keep looking at. They often work with themes and symbolism.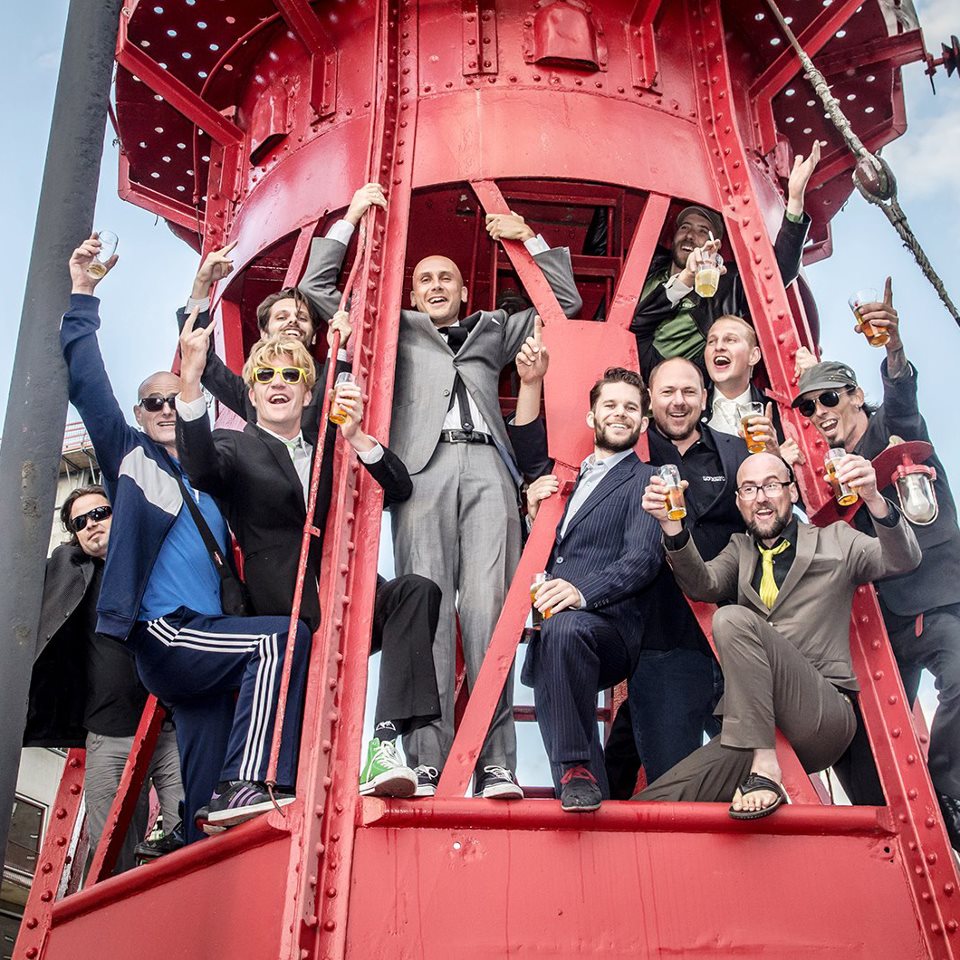 Carl Kenz:

Carl Kenz (Germany) was inspired by graffiti artists who have more to offer than just placing a tag. In 2008 he founded his own company, ArsVivenda. Who thinks of Carl Kenz, thinks of his brutal creatures, "The Devmonz". These white demons come in various appearances; as care keeper, Bavarian buccaneer, iceman, karate kid and so on. Slowly "The Devmonz" take over the walls in the Netherlands and Germany. In addition, the fleshy sometimes pink, sometimes green tentacles come out of the wall to grab you, are characteristic elements of the murals of Kenz.

Bunny Brigade:

Anyone with an eye for Amsterdam street art can discover long-eared sticker art of the Bunny Brigade on lampposts, bike boxes and power houses. Also little wooden blocks with the bunny cartoons are popping up in the public places. You can find these funny bunnies especially on walls both in the Netherlands and in foreign countries. That's why the Bunny Brigade became a well-known name. She does not just paint bunnies, but also birds, dragonflies and other animals. With acrylic paint and markers, she creates colourful cartoons on canvas of 10 x 10 cm. With several small paintings, art lovers can make a whole wall with various creatures of the Bunny Brigade.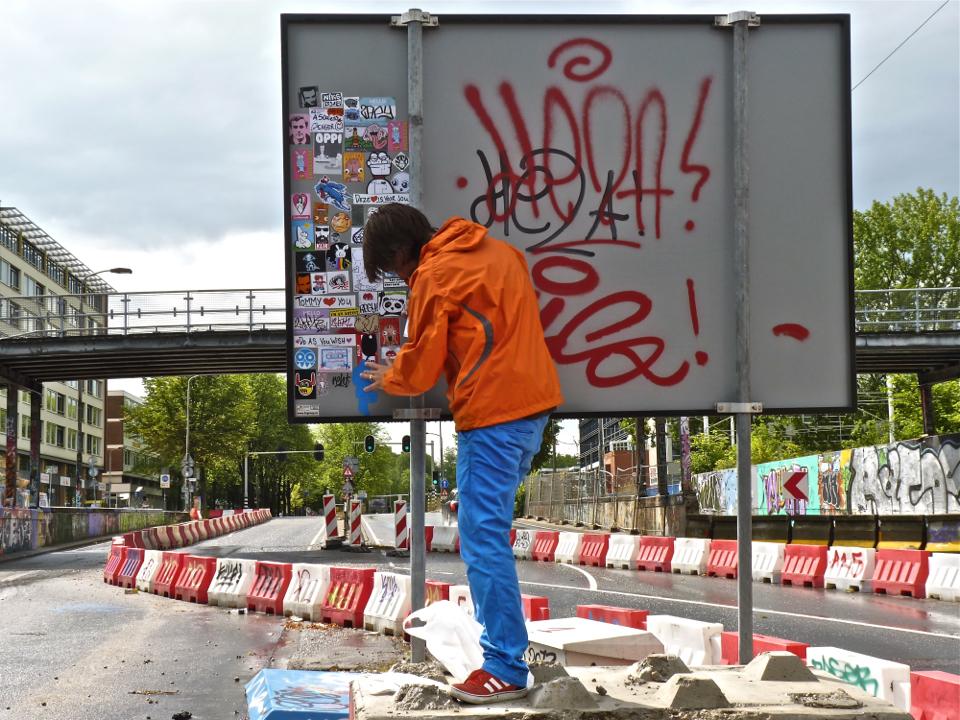 DUS:

DUS Amsterdam is a genuine street artist. Connoisseurs will describe her graffiti and street art as lively, cheerful, colorful, and here and there a good dose of humour. DUS Amsterdam is inspirited by big names like Frida Kahlo and Salvador Dalí. . DUS Amsterdam makes among others live paintings and murals. When she was younger she often used the word "so" (so translated in Dutch is dus), so that word became part of her brand. Her work is mainly showcased in Amsterdam and that's why her business name DUS Amsterdam was born. DUS Amsterdam likes to work as a street artist because she always works with relaxed people and in an inspiring atmosphere. She's often part of Tattoo exhibitions (such as Tattoo convention Amsterdam / Alkmaar / den Bosch) and Pop up streetart events. What's really special, is that all the money she makes out of it goes straight to charity. She is known for the wall on the Damrak in Amsterdam, Dutch Streetart Exhibition Fair 2012 and Bijlmer IMC Female Hip Hop Exhibition 2012.