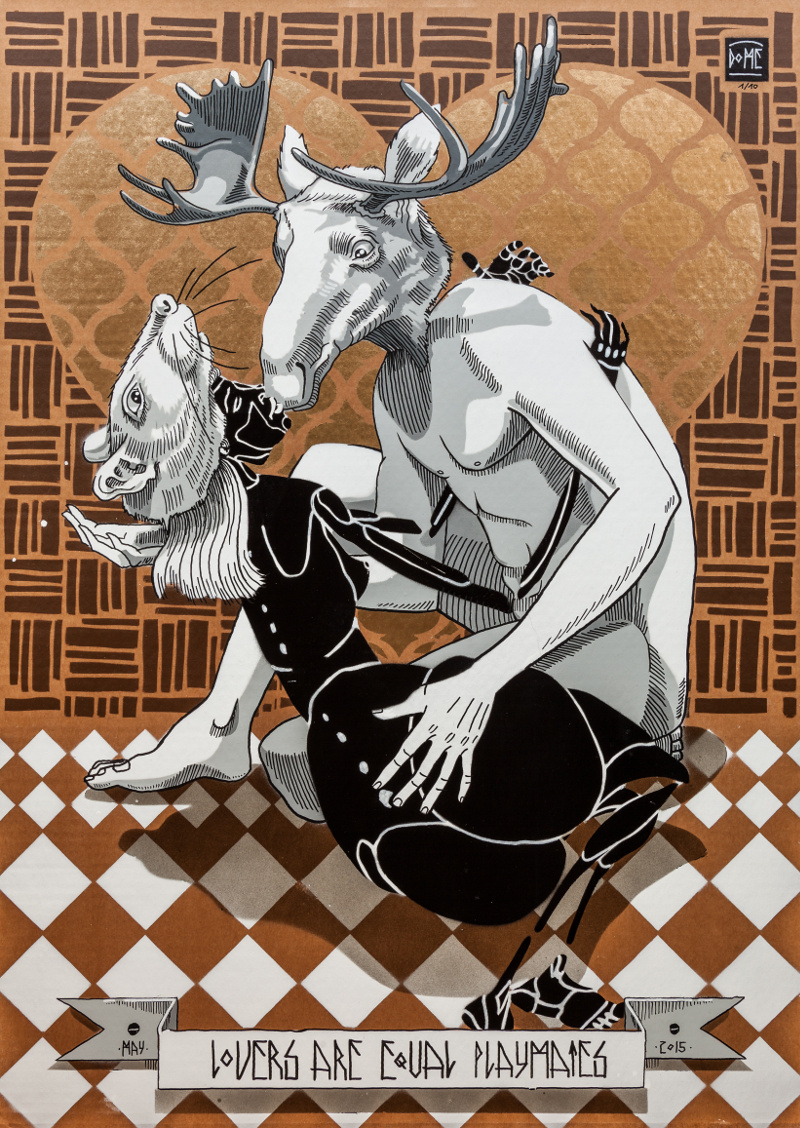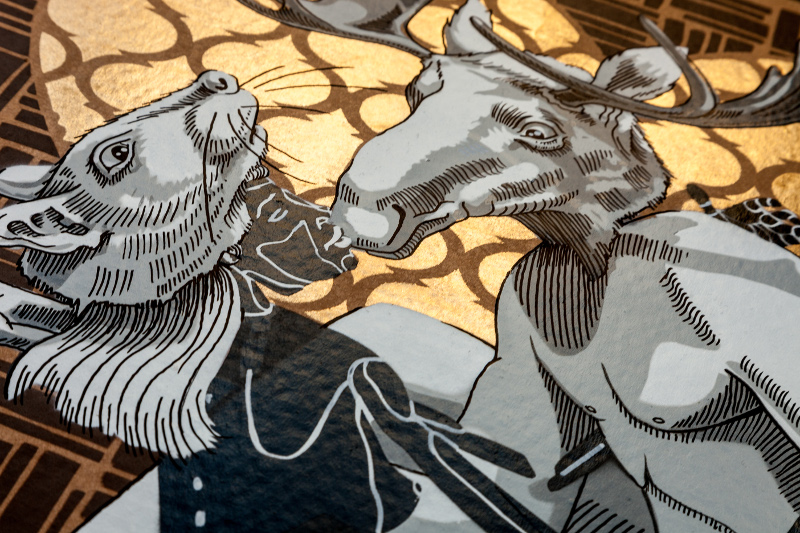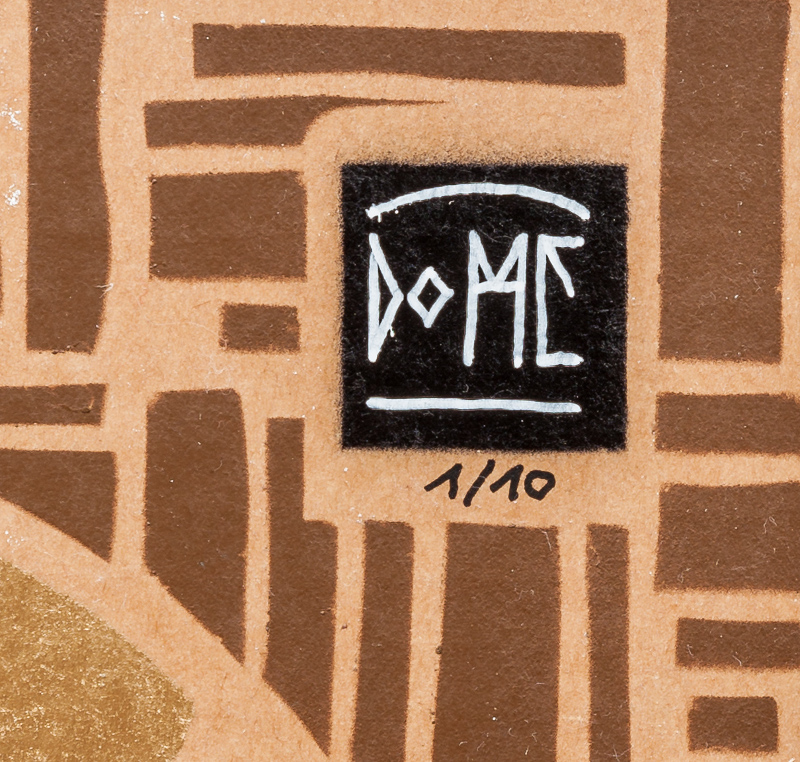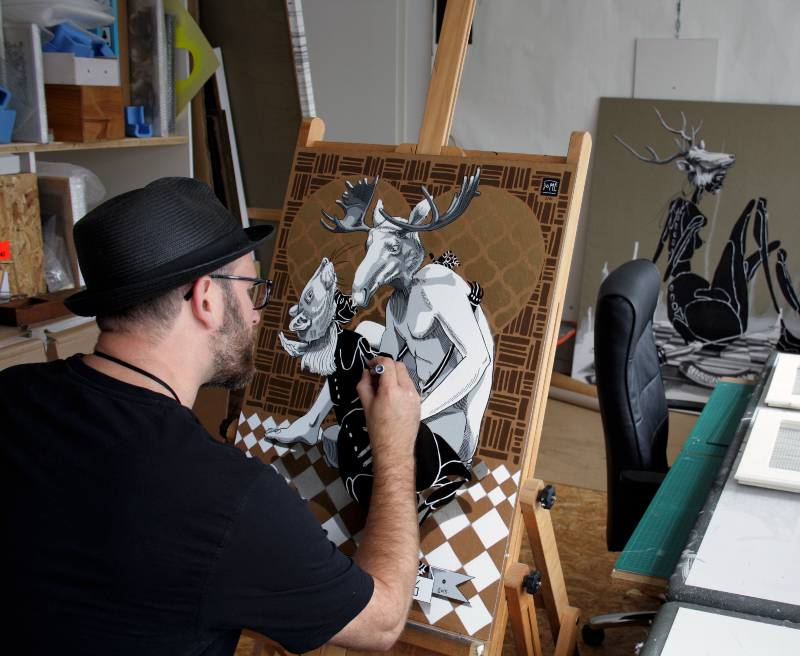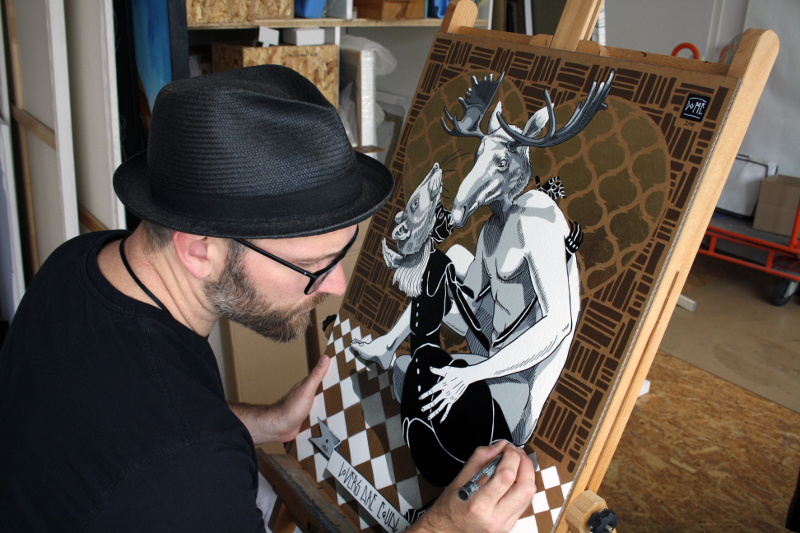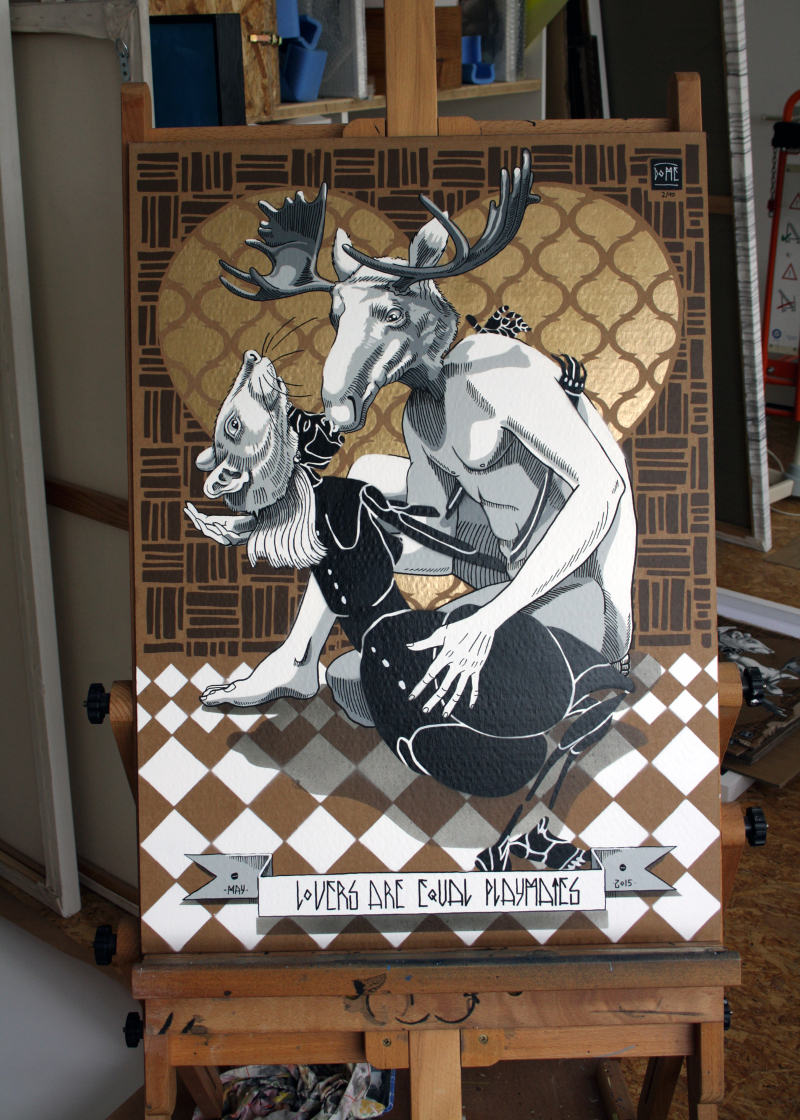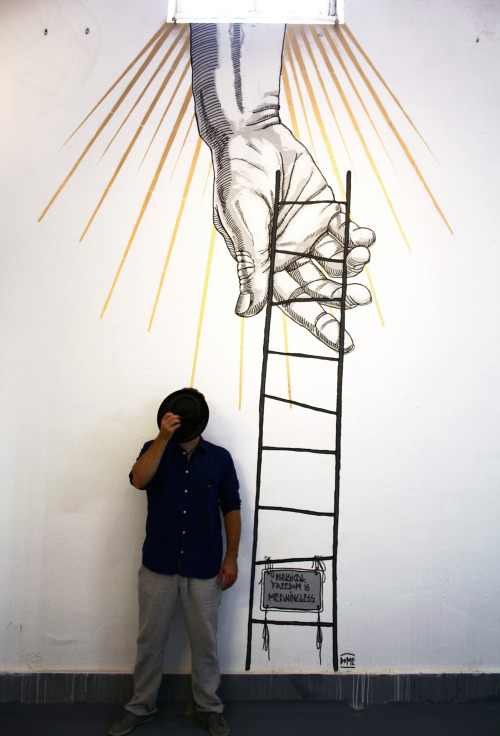 "physical freedom is meaningless"
4,2 m x 1,2 m
acrylics and spraypaint on wall
inside an former jail in Lagos/Portugal
17.09.2014

The renowned German street artist Dome works and lives in Karlsruhe. His real name is Christian Kraemer and already in 1995, when he was a twenty year old, he started practicing with spray cans on the legal walls of "Rheinstrandhalle".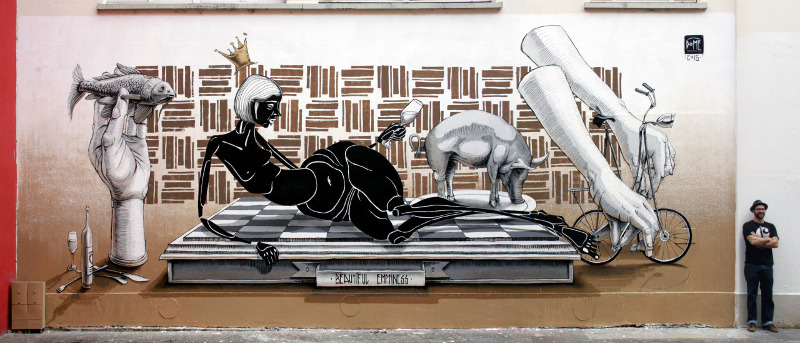 Beautiful Emptiness Mulhouse

Today Dome is considered to be one of the prominent names in the urban street art scene. He is widely appreciated and recognized for his artworks which merge between the realistic and the surreal world.

In 1995 Dome started his career as artist. His works quickly gain a lot of positive attention. In 2000 he started his study at the Academy of Art and in this same year he was also invited for his first paint event, Wall Street Meeting in Wiesbaden. From here on his career grew fast.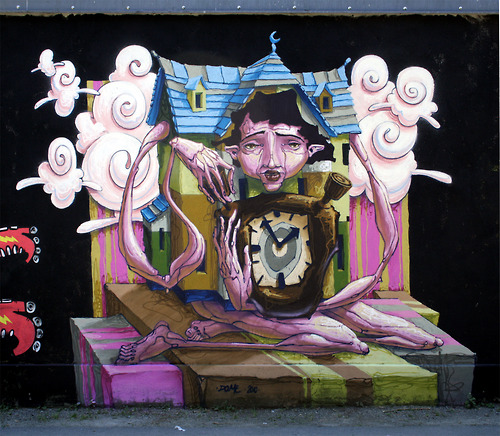 Nowadays we know Dome from his surreal monochrome artworks. But in the first years of his career he had a different style and used a broad colour palette. In 2001 he, together with various graffiti artists, was invited to conjointly paint a wall at Muntplein, Amsterdam. His more painterly characteristics are now replaced by a strong composition of surreal figures.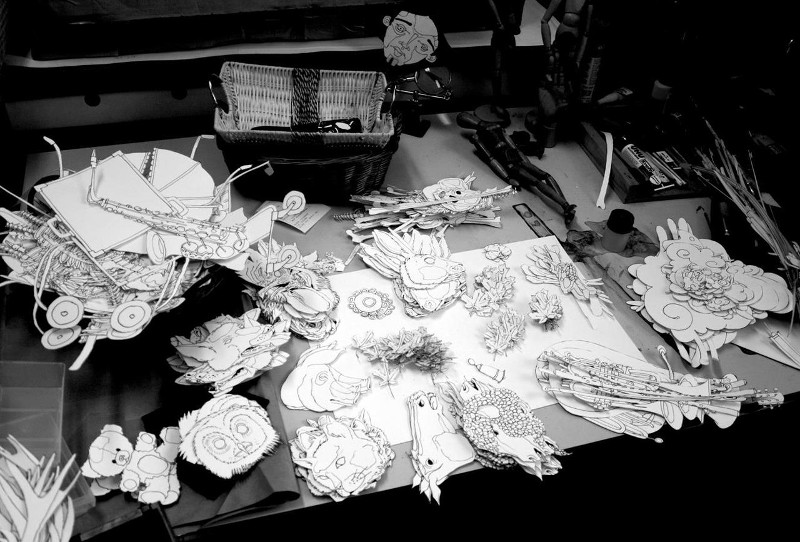 Since 2010 Dome is focussing on drawing with ink. And in 2011 he developed his so called 'limb construction kit'. This kit allows Dome to construct his artwork in a playful way.
Dome examines the human body and the human condition on a surrealistic manner. Each part of the human body is drawn individually and cut to eventually construct his artwork out of pieces. For this he uses his developed 'modular construction system' in which he's able to rotate the drawn body parts in any way he prefers. This system gives him the flexibility to quickly change the composition.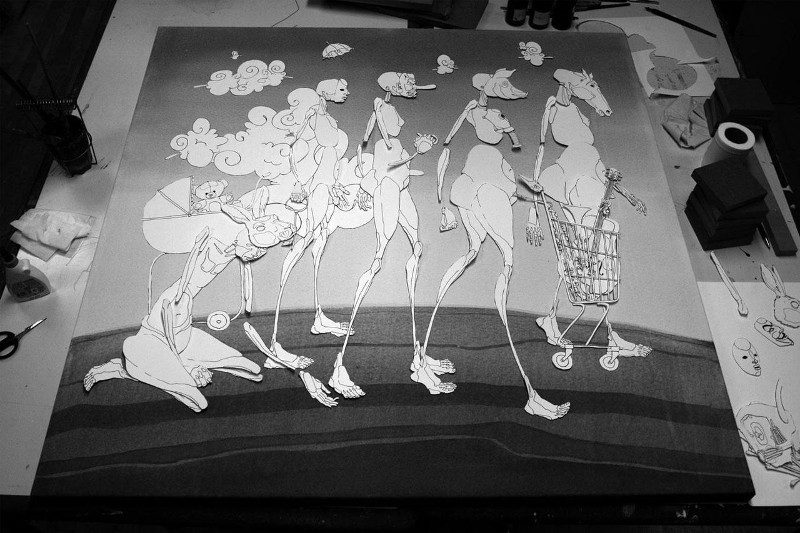 His 'limb construction kit' has something similar to a collectors library. Proper organized boxes are filled with parts of arms, legs and other body parts. Once everything is in the right place, Dome starts painting, spray-painting or sculpting the eventual artwork.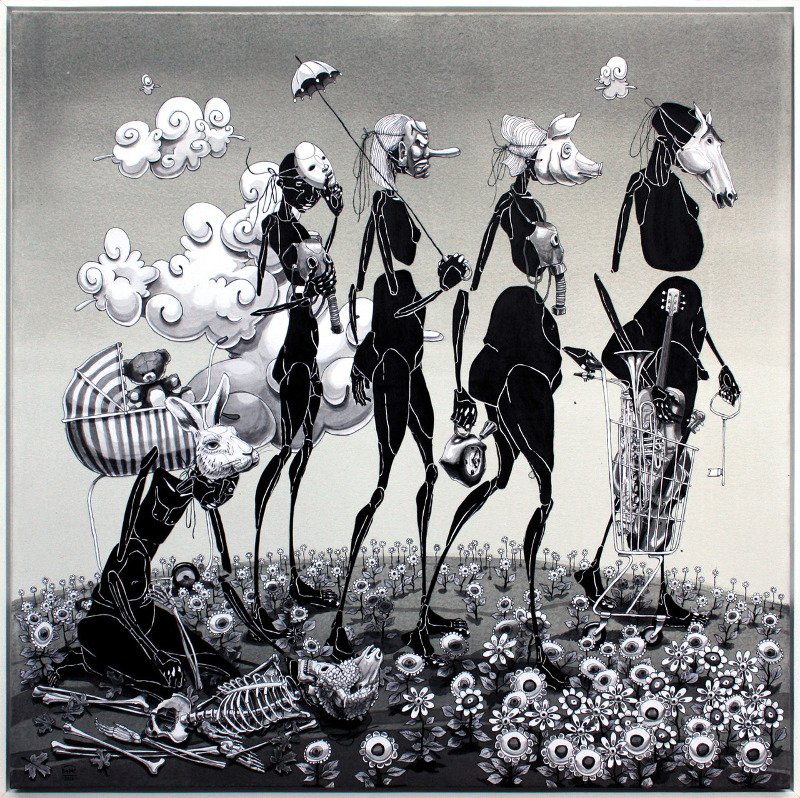 "Peregrinatio"
109 cm x 109 cm
Collage on canvas
12. August 2012

He is known for his mysterious narratives. He creates worlds full of elongated figures with animal heads. Some of them play music, other ones are in a love scene. Sometimes their surrounded by animals like rabbits, mostly in a surrealistic world which is familiar yet also strange.
Dome has a broad use of materials and backgrounds. He uses ink, paint, paper, spray cans and he creates drawings, cardboards, sculptures and objects. But also huge black and white walls all around the world.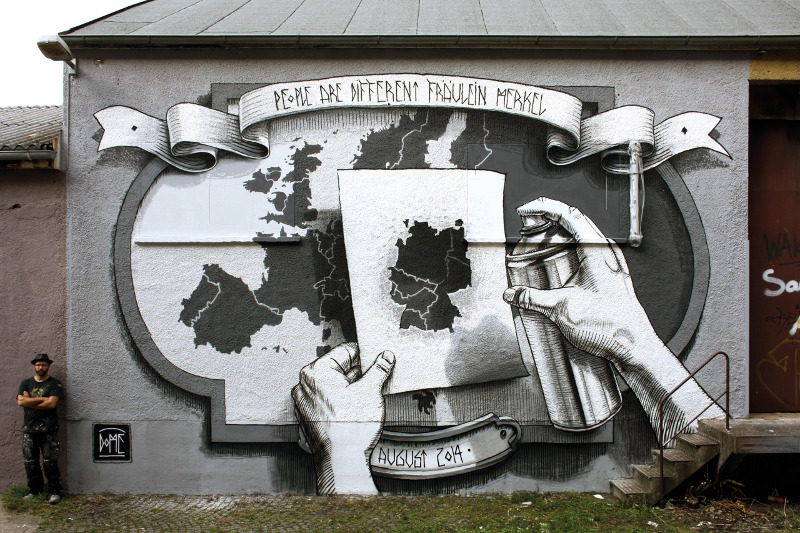 5,6 m x 8,6 m
Acrylics and Spraypaint on wall
Munich/Germany
18.08.2014

Mostly he creates human figures and animals. But sometimes Dome also makes a critical statement. Like in this mural where he comments the German Chancellor Angela Merkel with the title 'people are different Fräulein Merkel'.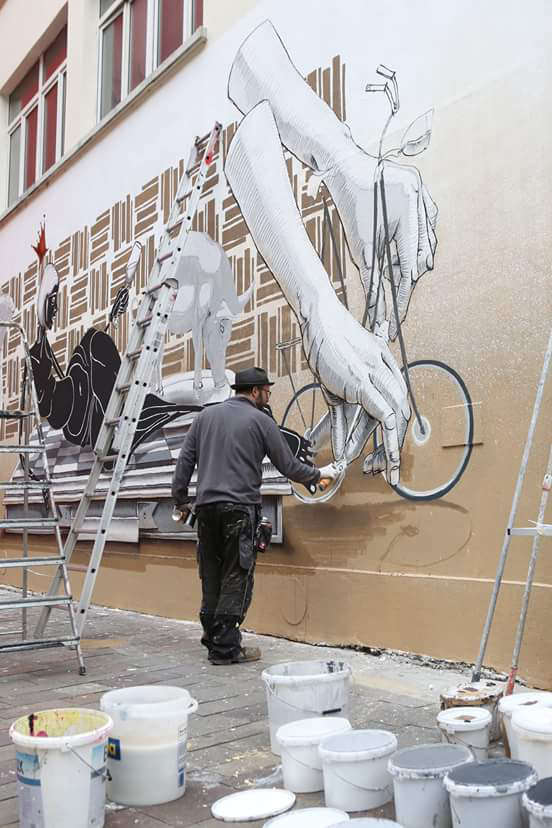 At work in Mulhouse/France

Today Dome is a well appreciated artist. He gets a lot of invites for festivals, shows and gallery exhibitions. Dome has many shows on his name. Some we put in the spotlight are his walls 'Beautiful Emptiness' for Le M.U.R. Mulhouse (France, 2015) and his super detailed 'Getting Attention' at the Miami Ad School during Art Basel Miami (2014).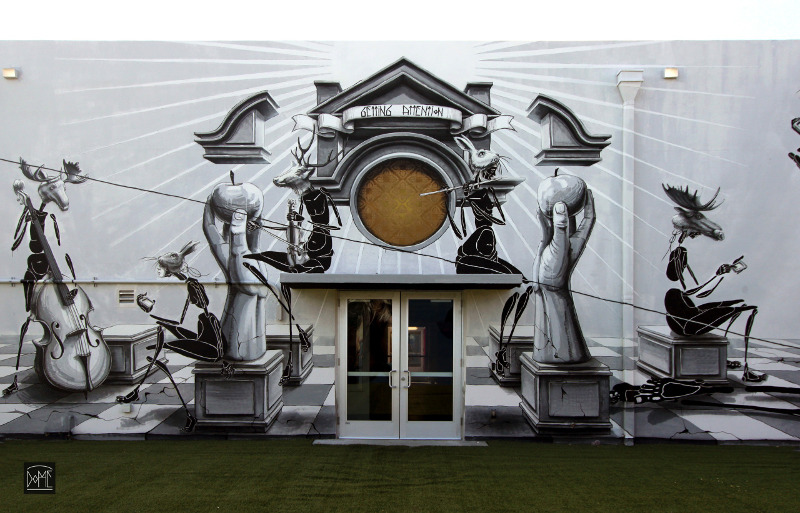 Dome 'Getting Attention' at the Miami Ad School during Art Basel Miami (2014).

Several established gallery shows which are also good to mention are 'Urban Art Show' at the City Gallery in Saarbrücken (Germany 2012), 'Kunst Schenken' at Gallery Rheinstrasse in Karlsruhe (Germany, 2011) and 'Streetartpassage' at the Museum quartier in Vienna (Austria 2009).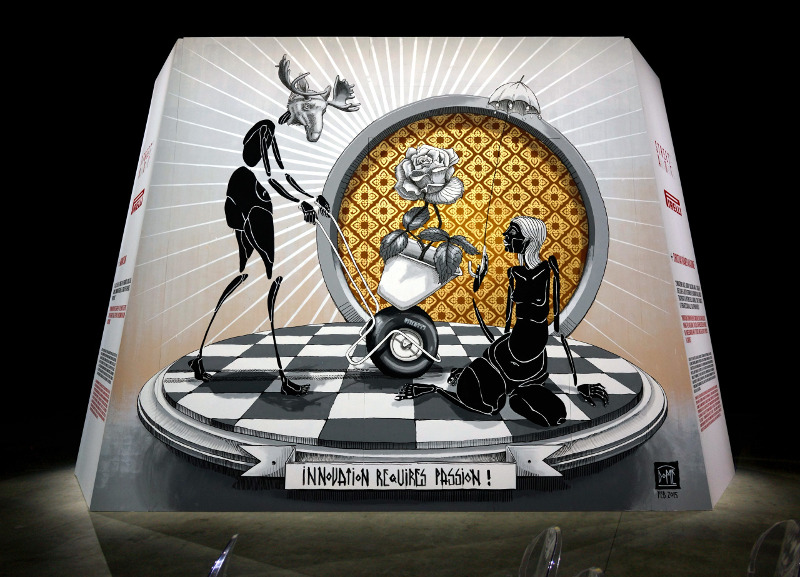 'Innovation requires passion' for Pirelli. Hangar Bicocca in Milan, Italy (2015)

Besides the established art world, Dome also works for big brands like Pirelli. In February 2015 he painted this wooden cube for the Annual Report at the Hangar Bicocca in Milan, Italy. In 'Innovation requires passion' Dome incorporated the tire of Pirelli.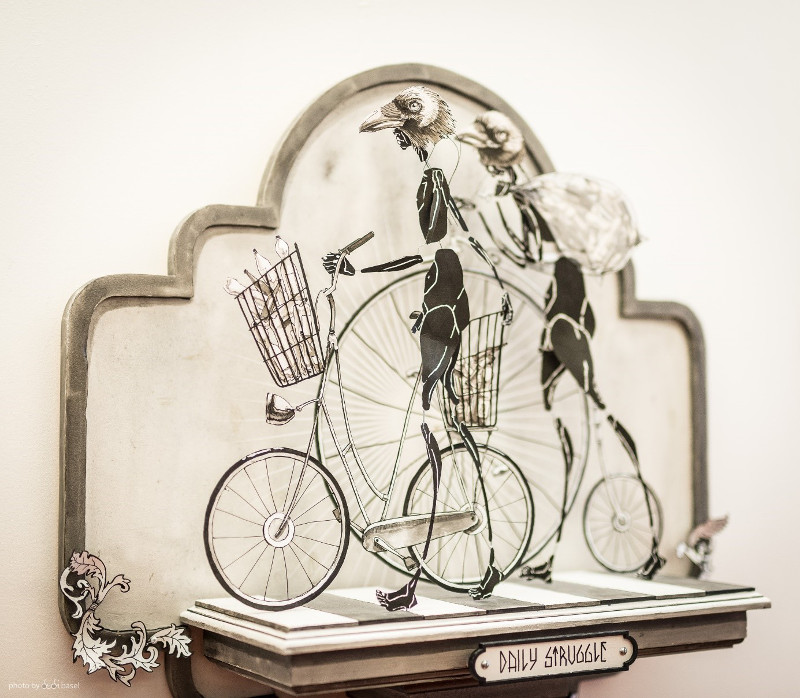 We showed his works for the first time during our exhibition 'Urban ❤ Basel' (June 2015). Dome brought two beautiful sculptures, one of them was 'Daily Struggle' and we showcased 'Lovers are equal playmates' and received a lot of good response.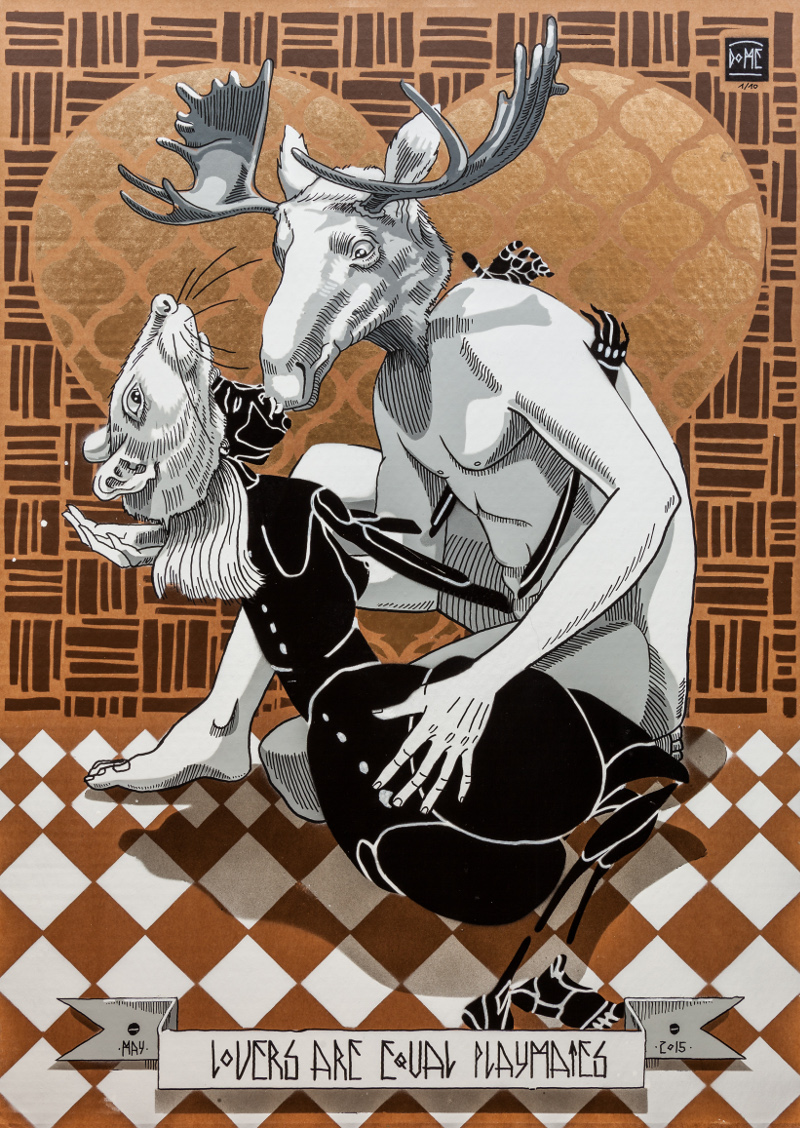 For StreetArt.com Dome made 'Lovers are equal playmates' and is about equality as the title describes, love and passion for those one who are close to you. This monochrome artwork is strengthened with a gold background. Dome loves to paint on cardboards which he finds in the streets or in backyards of companies. He loves the color of cardboards in combination with gold. It shows him the contrast between glory and momentariness.
We see a male and female figure both with animal heads. The woman took of her mice mask to give a kiss to the reindeer.